Record-breaking number of new faculty hired
With the expansion of new tenure lines beginning this semester, the College added 15 new tenure-track professors, which breaks the record of the highest total number of new tenure-track professors since 2009. Traditionally, every new school year introduces no more than 30 new faculty members, but this year the College added 46 new faculty members, including tenure-line, term and visiting professors.
President Anne Harris, who assumed the position in July 2020, pushed to greatly expand the number of tenure-line professors. Harris said this expansion would help promote racial and ethnic representation at the College and expand the curriculum. With new professors, the College plans to add an African Diaspora Department.
This expansion comes at a time when tenure-line positions are limited and highly competitive in higher education. According to the National Center for Education Statistics, among four-year nonprofit institutions 49.5% of professors were tenured in 1993-94. This percentage dropped to 41.4% in 2018-19. The increasing number of PhD graduates who want a tenure-line position outpaces the number of teaching positions available, which has stayed constant. One 2015 analysis found that only 12.8% of PhD graduates can acquire an academic position in the U.S.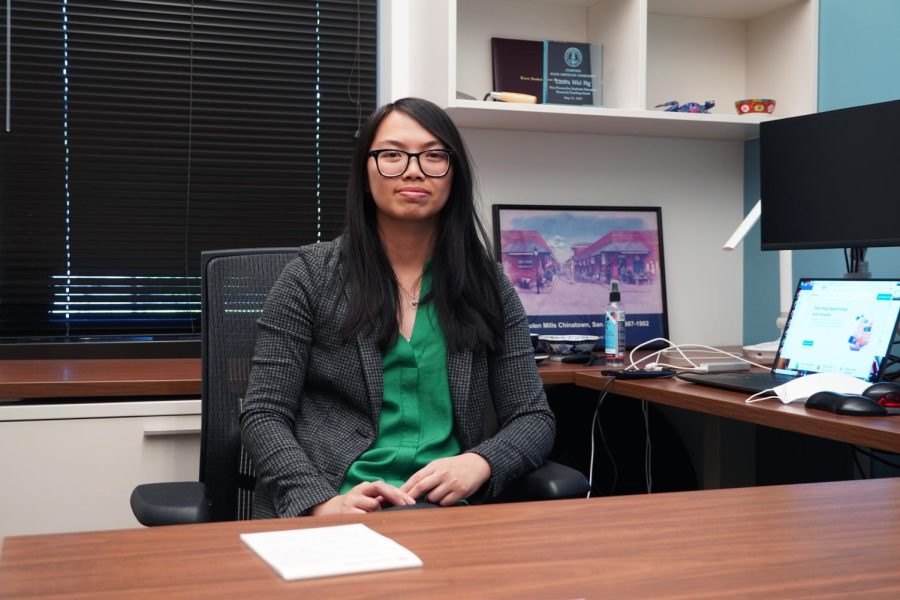 According to Harris, a wider variety of faculty with tenure would promote the institution's sustainability and long-term relationships with students, as it is expected that most would stay with the College until retirement if tenure were granted.
"I firmly maintain Grinnell College is a model in higher education," said Harris. "All of those things, I think they're rapidly fading in higher education. And so, all the more reason for Grinnell to show that it can still be done."
Former College President Raynard S. Kington, who served from 2010-2020, abided by the Board of Trustees' wishes to limit the number of new tenure-line positions. But as the student population has begun to increase, Director of Institutional Research Carlie VanWilligen says  that with Harris' help, the Trustees now recognize the significance in the expansion of tenure lines.
According to the Faculty Handbook, term faculty often replace tenured and tenure-track professors when they are on sabbatical and research leaves. Visiting professors, who are often language lecturers, may only stay for a single semester and may not stay over two years.
Tenure lines are reviewed by the Executive Council, which the Faculty Handbook reports is composed of "the President (the non-voting chair), Dean (non-voting), Chair of the Faculty, Chairs of the three divisions of the College and two Members-at-Large elected by the faculty for two-year terms."
The S&B was able to speak to four professors newly on the tenure track: Assistant Professor Laura Ng of the Anthropology Department, Assistant Professor Ryan Miller, Assistant Professor Johnathan Wells and Assistant Professor Pratima Hebbar of the Math and Statistics Department.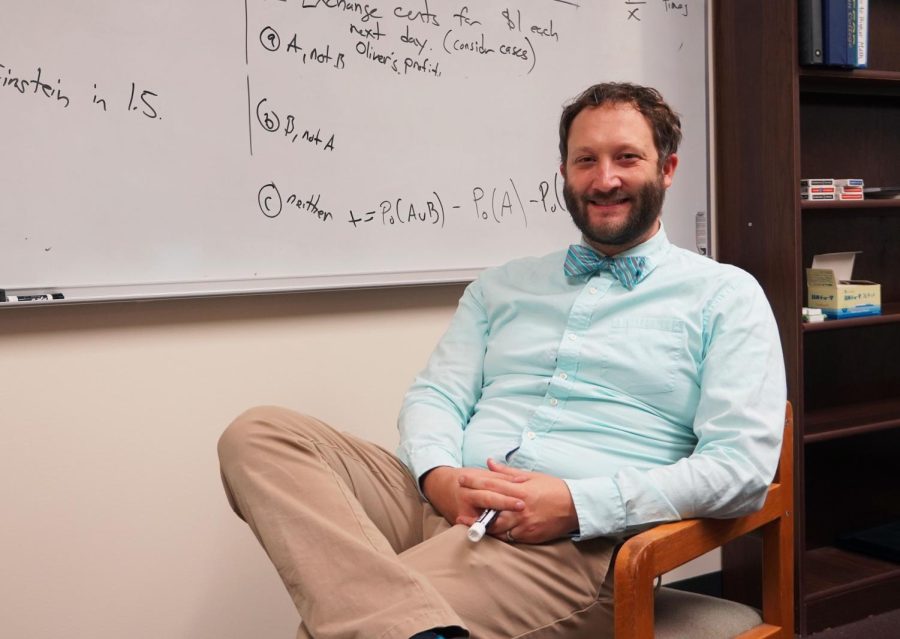 Chair of the Mathematics and Statistics Department Professor Jennifer Paulhus said that she was the last professor in the Department to receive tenure 11 years ago. Over this time, Paulhus said the Department witnessed a high demand for math and statistics classes, sometimes causing over-enrollment issues for introductory classes. The new tenure-track professors will provide knowledge in applied math, data science and statistics.
"We were finally given this opportunity to expand for the first time in many years," said Paulhus. "And that's going to give us an opportunity to offer students a lot more interesting courses."
Both Miller and Wells teach statistics, and Miller was a term faculty member from fall 2018 to spring 2020. Miller predicts that because this is only the beginning of new hires, the statistics part of the department may become robust enough to split off into its own.
Ng, Wells and Hebbar were also offered tenure-track positions at other institutions. Miller left a tenure-track position at Xavier University to join the College as a tenure-track professor as per encouragement by a former colleague.
All the interviewed professors newly on the tenure track said that Grinnell offered the highest salary, especially in relation to Grinnell's relatively low standard of living. Hebbar said that Grinnell's location may challenge attracting new and diverse faculty members to a tiny town. Harris said that the College is able to offer strong, competitive contracts because it is endowment-dependent, which is valued at over 3 billion dollars, rather than tuition-dependent.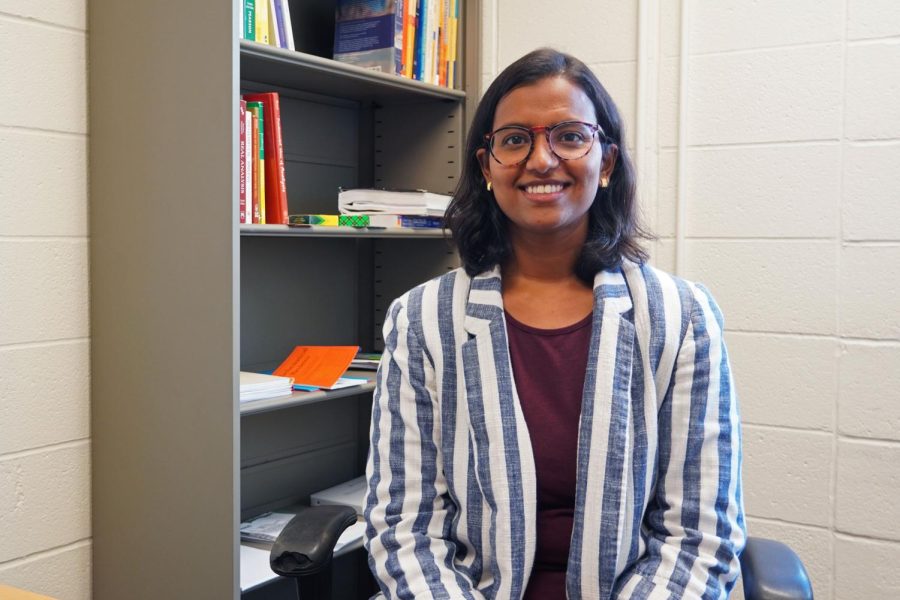 VanWilligen, who has worked in the Institutional Research department since 2007, was unable to provide the exact number of new tenure lines that will be added for each academic department, as they are subject to change.
The Executive Council will need to work with the Dean and the President to approve any intended changes. Harris said they are currently working on promoting several term positions into tenure tracks and approving the search for new tenure-track hires based on department demands.  
While maintaining or decreasing the student-to-faculty ratio of 9-to1 is not explicitly an institutional priority, VanWilligen said that in the past few years, the increase of students, while gradual, has not been aligned with an increase in faculty.
According to the College's Integrated Post-Secondary Education Data System for Total Student Enrollment, which can be accessed on the College's centralized information platform SharePoint, from 2010 to 2021, the student population has increased by over 5%, or more than 90 students. Going back the last 15 years, the numbers of tenure-track faculty members has mostly remained relatively stagnant until this year, said VanWilligen. The increase is especially noticeable for academic departments that have experienced sudden increases in popularity.
In the 2013-14 year, the Total Major Counts, which can also be accessed on SharePoint, reports that 14 students graduated with a Computer Science degree, and in the following year, this number jumped to 38. Before this, the number of Computer Science graduates did not surpass 20, except for 2003-04 where the number was 25. In the 2021-22, this number increased to 56 graduates.
As the number of Computer Science graduates is projected to increase more and more each year, the three Introduction to Functional Problem Solving classes are expected to increase in popularity, especially with the course's wide application into other fields. This semester, some first-year students who intend to be Computer Science majors were unable to be placed into this course. 
Assistant Professor Laura Ng was a term professor from 2021-22. She filled the position of a tenured professor who had just retired. According to Ng and Harris, going directly from the position of visiting professor to tenure-track professor is not common at most higher education institutions due to limited availability of positions.
Ng was also offered a tenure-line position at a public university. This contract would require her to take on a higher teaching load than Grinnell's. Grinnell's contract requires tenure-track professors to teach a 2-2 (two classes per school semester) in their first year and a 3-2 (three classes one semester, two classes in the other semester) in following years. The university also did not offer her much financial support for personal projects, meaning she would have to apply for grants for both herself and her students. What drew her to the College was its equal emphasis on undergraduate teaching and an investment into a professor's own academic projects.
"There's more investment in having people stay," Ng said. "If you have more tenured professors, then wow. These people are going to shape what the college looks like in the next ten years."
Over the past two years, VanWilligen counts 10 tenure-line professors that have left the College. She said that the pandemic caused many to reassess what they wanted in a career, and some tenured professors may have retired earlier than they originally anticipated.
Due to financial limitations and hiring freezes brought on by COVID-19, Dean of Academic Affairs Beronda Montgomery wrote in an email to the S&B that many higher learning institutions were unable to hire many new faculty members. While new term faculty was hired to fill existing positions, no new tenure-track faculty were hired at the College for the 2021-22 school year, as indicated from a chart breakdown of faculty the Dean's Office compiled for the S&B.
Nationally, there is "an apparent increase" in the number of new hires in higher education, which can also be attributed to hiring freezes brought on by the pandemic. President Harris said that she lifted the moratorium on hiring new faculty in 2021 and that there was no budget freeze.
From fall 2019 to spring 2022, Assistant Professor Nikolas Sweet, currently on the tenure track at the University of Wyoming, taught at the College as a term professor to replace tenured linguistic anthropologist Professor Brigittine M. French, who moved into an administrative role.
Sweet's partner, Assistant Professor Allison Caine, a cultural anthropologist, was also offered a tenure-line position at the University of Wyoming. As part of the contract, they also offered Sweet a tenure line. As a term professor at Grinnell College, Sweet did not have much bargaining power for Caine's position. Sweet said that Caine was able to teach a short course at the College, but the College did not pursue any further relationship with her until the final year of the couple's time at Grinnell when Caine was offered a term position.
In the Psychology Department, four professors left (two of whom retired, two of whom moved as a couple for family reasons) last semester, and three new tenure-track professors were added. The Chair of the Department Professor Ann Ellis, who has been with the College since 1994, said that the Department expanded in the late 1980s and early 1990s. Ellis said that clusters of tenured professors retire at similar times, either leaving the profession or graduating to senior faculty status.
For the Math and Statistics Department, the three new tenure-track professors are only the first wave of new tenure-track hires. The Department, according to the Chair, is searching for three more tenure-line professors to join them for the following academic year.
"We really have this momentum of new energy that we can bring. And it's a clear and definite thing," Wells said. "Here's three new tenure-line faculty. Here's how we can see things changing or adapting or developing."