Karen Cooper paints Grinnell in plein air
"Painting Grinnell," an exhibit by local artist Karen Cooper, opened on Aug. 25 and closes Sept. 24. The exhibit is housed in Stewart Gallery in the Grinnell Area Arts Council at 926 Broad Street. The show comprises 33 paintings that were all done "en plein air," or outside, directly observing the subject instead of painting in a studio or from a photograph.
Cooper's interest in art began in middle school and she spent many years exploring batik, acrylic and oil paintings. However, her husband's work necessitated frequent moving, and this serial uprooting caused her to fall out of touch with her artistic practice. From 2013 to 2018, she lived in Lipetsk, Russia, and explained that these years were pivotal in her return to oil painting. "I made some friends in Russia and they're very purist about oil paint, watercolor or pastel. They told me, 'Start doing oil again,'" Cooper said.
While in Russia, Cooper observed and was inspired by impressionist oil paintings in several art museums, such as the Lev Tolstoy Museum. "I love the Russian impressionists and that style of work, and so it's probably pushed me more towards an impressionistic style of painting," Cooper said.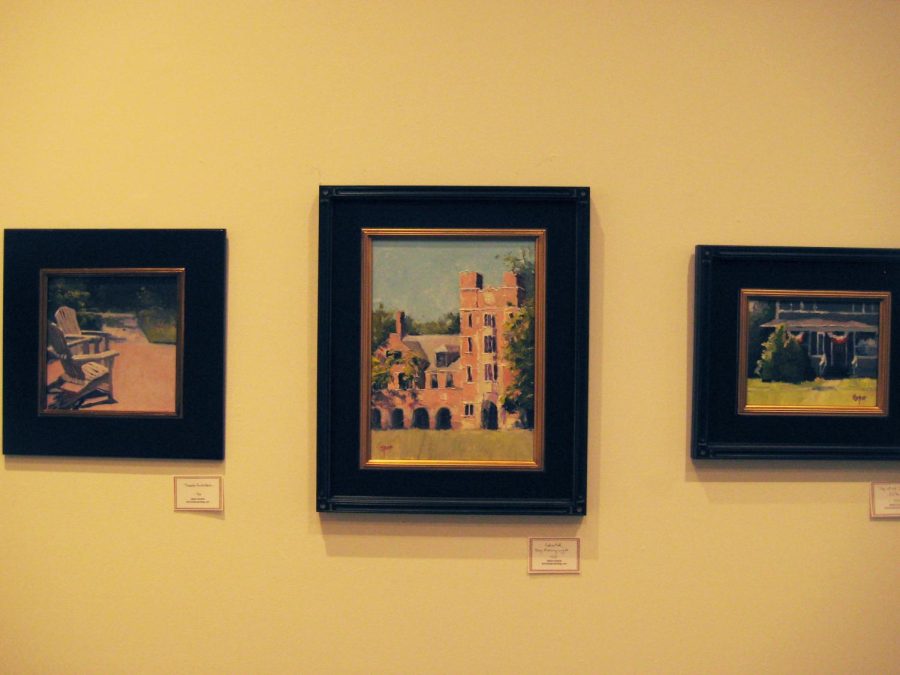 Upon her return to the states, Cooper began her foray into "plein air" painting, wherein artists gather in a community for a few days and paint on location. Since then, the medium has proved rewarding: Cooper won the Richard Dutton Honorary Award for her paintings in the "Paint Van Buren County" plein air competition this year, in addition to holding various exhibits in Missouri, Wisconsin, Colorado and Iowa.
Each of Cooper's 33 paintings feature various locations in Grinnell, which she completed on site. On average, each painting took her two to three hours to finish.
Cooper recalled having interesting conversations with locals while painting on location and feeling more immersed in Grinnell's history. She hopes that her exhibit motivates viewers to explore and cultivate an increased appreciation for where they live. "There's a lot going on in this town, and if you're just driving your car, you might not see it. But if you choose to look, there's a lot to see," Cooper said. "I hope that the paintings show them some of the things they might not have known were there, or to look at it in a new way."
"Painting Grinnell" will be available to view in the Grinnell Area Arts Council's Stewart Gallery until Sept. 24. The gallery is open Wednesday through Friday, 11 a.m. to 5 p.m. and on Saturdays, 10 a.m. to noon.