Family of Michael Williams calls for permanent memorial
When his family remembers Michael Ronnell Williams Sr., they describe his infectious laugh, his love for his children and his signature end to every conversation: "I love you."   
On Sept. 16, 2020, 31-year-old Steven Vogel murdered fellow Grinnell resident Michael Williams and disposed of Williams' body in a ditch in rural Jasper County, with the assistance of three other Grinnell residents.   
Police reportedly believe that Vogel murdered Williams on Sept. 12, 2020. After keeping Williams' body in a basement for four days, he enlisted his mother, stepfather and his friend Cody Johnson to help dispose of the body.  Vogel and Johnson abused the corpse and reportedly joked about killing "Black Mike," according to documents at Vogel's trial.   
Everyone involved in the murder lived in Grinnell. The four co-conspirators were white. 
44-year-old Williams was a father, a grandfather, a brother, a son a friend. And a Black man.   
On Sept. 10—what would have been Williams' 46th birthday—community members gathered in downtown Grinnell not just to remember his brutal death, but also to celebrate his life.
About 50 people gathered in Grinnell's Central Park before an altar adorned with flowers, candles and a banner that read "Michael Ronnell Williams Sr. was here." A plain white birthday cake stood nearby. The Des Moines Black Liberation Movement Collective (DSMBLM), which sponsored the event, asked attendees to come dressed in orange, Williams' favorite color.  
As the rain beat down on the sides of the Central Park pavilion, organizer Jaylen Cavil reminded the audience of the brutal circumstances of Williams' murder. The official cause of death was ruled to be strangulation. Further investigation revealed that Vogel also beat and hung Williams, wrapped and bound his corpse in plastic and cloth with tape and rope and then rolled the body into a carpet before disposing of it on the side of North 67th Avenue East.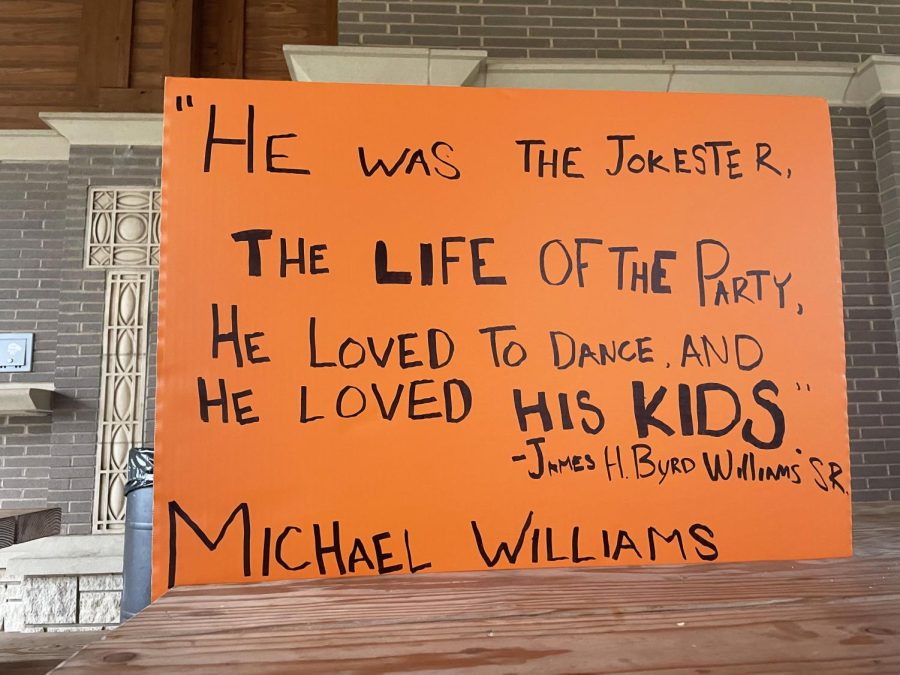 During the ceremony, organizers encouraged attendees to add candles to the altar and then urged them to yell the words on the banner—"Michael Ronnell Williams Sr. was here!"—as loudly as possible. The shouts echoed through the park.   
After leading the audience in singing "Happy Birthday," organizers encouraged everyone to have a slice of the cake and to write letters to the Grinnell City Council in support of a permanent memorial in Central Park in honor of Williams. Williams often slept in the same park during periods of homelessness.  
Although the Iowa-Nebraska NAACP chapter concluded on Sept. 17, 2020 that Williams' murder was not racially motivated, members of the Williams family and some people who have followed the case continue to view the case differently.   
Following Steven Vogel's guilty verdict on Nov. 16, 2021, the DSMBLM released a statement that said: "Michael Williams' death is a part of the legacy of lynching in this country, where white men feel entitled to murder Black men for whatever reason they see fit and do so in ways which align their actions with centuries of white supremacist violence against Black people."  
In a statement to the press, president of the Iowa-Nebraska NAACP chapter Betty Andrews said, "I fully understand that having a body of an African American man found burning in a small town in Iowa would raise several red flags and concerns. Justice still is needed in this case. And we join the family, law enforcement officials and the community in seeking that justice." 
This NAACP ruling falls in direct opposition to the opinions and pleas of the family, including Williams' aunt Paula Terrell and Monique Washington, advocate for the Williams family, who have said they believe that Michael's killing is inextricably tied to the history of lynching in America. 
At a Nov. 2021 vigil commemorating Williams' murder, Washington insisted that the ignored racial dimensions of the killing contributed to inadequate news coverage about their son.  
Recently, Michael Williams' family has advocated for a change in Iowa hate crime classification, which does not enhance punishments for homicides, according to Iowa Public Radio.  
Washington and members of the Williams family maintain that Williams' murder mirrors Emmett Till's. At the vigil last November, James Williams Sr., Michael's father, said that he was at first unable to identify his son's body.   
Since Vogel, Cox, Garner and Johnson have all pleaded guilty and been sentenced (to life, 7 years, 9 years and 2 years with credit for time served, respectively), the Williams family has continued to push for the city of Grinnell to create the Central Park memorial.  
Grinnell City Manager Russ Behrens told the S&B in an email that he has not been a part of any discussions about a memorial. Nevertheless, Williams family members and DSMBLM organizers said they believe a memorial for Michael is a step towards the justice they continue to seek. 
Williams' children and ex-wife have left Grinnell in the past year, and most of his extended family now resides in New York and Florida. Unable to attend the celebration, they watched the ceremony online.  
 Janalee Boldt, Michael's ex-wife and mother of three of his children, Danté, Michael Jr. and Jameka, commented on the Facebook Live video of the celebration to express her gratitude. She wrote, "You guys are family! You are now Michael's family and friends."   
Michael's father wrote on Facebook that "I am going to miss you for the rest of my life." He insisted that he would continue "fighting for your rights [to] change the hate crime law" in Iowa. He concluded: "I love you and will always miss you."