A Grinnell guide to fall fun
As the daily commute to classes comes to require a sweater, leaves pile at the base of the giant oaks around campus and the Grinnell squirrels grow chubbier and chubbier. Fall has certainly arrived in Grinnell. With students returning from fall break and resuming the daily routine of academics, many are looking for fun ways to celebrate the season, and any student set on finding seasonable activities does not have to look too far.
Uncle Bill's Farm, located south of downtown on 400th Avenue and only a few minutes drive from Grinnell College, boasts of being "one of the best 16 pumpkin farms in America" on the homepage of its website. With a variety of attractions and offerings from tractor rides to magic shows, the farm is home to more than just pumpkins.
Members of Grinnell College's women's basketball team made a trip over to the farm during fall break.
"I really liked the apple cider donuts and the jumping pad, and some of my teammates liked being buried in the corn pool. It was a great fall activity that gave us a lot to do," said Eva Carchidi `24, one of the students in the group who went to Uncle Bill's.
The jumping pad is a large inflated rubber cushion that visitors can bounce on, and the corn pool is exactly as it sounds: a large container filled with dried corn where visitors can climb in and mess around.
Aiyana Rockwell `24, another member of the team, shared similar sentiments and said the jumping pad gave her and her teammates a chance to test their "athletic prowess."
Visitors can also spend time feeding Uncle Bill's goats and even pick their own pumpkins to purchase from the 10-acre pumpkin patch. Admission is a set price of $13.00 and includes all of the attractions the farm has to offer. 
Though Uncle Bill's Farm has closed for the season, next year promises just as much fall fun — the farm will reopen on the first weekend of October.
For those willing to travel a little further outside of Grinnell, Appleberry Farm is an orchard only about a half-hour drive away in Marshalltown.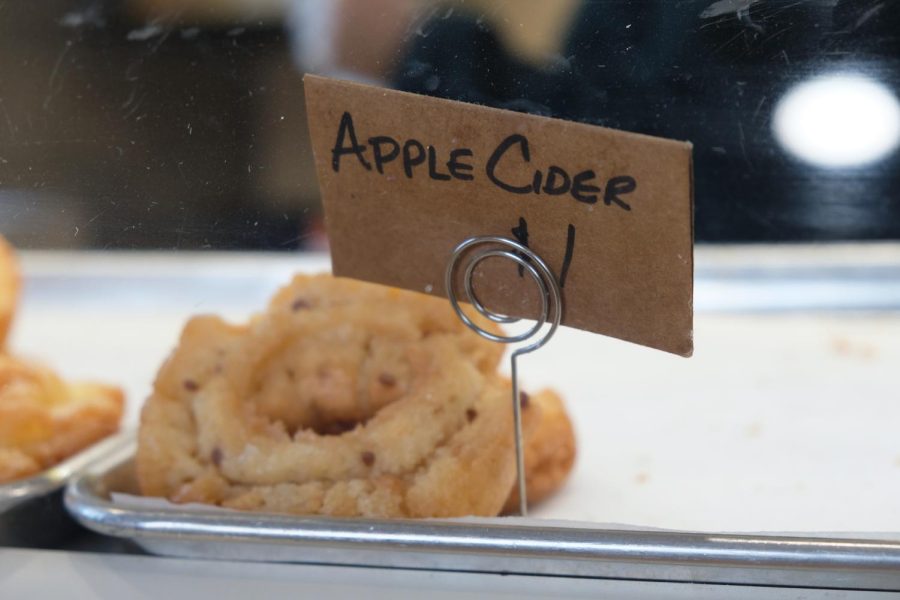 In the fall of 2016, the farm was the owners's saving grace and hope for something new. Kelly Mason, who co-owns and runs the farm with her husband, said she used to work as an emergency room receptionist and ambulance dispatcher before buying the farm from the previous owners. 
"I worked at the hospital for 28 years, and it was going downhill, going bankrupt. I didn't know what was going to happen. And so we started looking for other options," Mason said. "We thought it could be really fun. A lot of work but really fun."
Appleberry Farm has no formal employees and is run entirely by the Mason family and friends. Activities include hayrides, yard-game setups and the famous orchards where visitors are able to pick their own apples. With over 19 acres of land, and the apple trees covering most of them, they tend to be the main attraction. 
Apples are not the only fresh produce visitors can hope to find at Appleberry Farm. The orchard also grows and sells a variety of vegetables — including Carolina Reaper and ghost peppers — and jars of various butters, jams and preserves are all for sale in their shop.
Mason said the family attempts to keep the orchard open year-round, but the busiest times are during the apple-picking season. She said she plans to shift the orchard to a by-appointment-only entry in January, and focus on baking homemade treats and growing produce for profit. For now, the orchard is open every day until Dec. 25.
Admission is free, and apples are half-price through the rest of the season.
Fall can also be celebrated right in downtown Grinnell with seasonally-appropriate drinks and baked goods. 
Indulge in fall flavors with Saints Rest's seasonal drinks, which include hot coco, cider and horchata, or add October's pumpkin flavor of the month to a latte for the warm, homely taste of the beverage deemed the "Pumpkin Pie." The coffee house will be continuing the taste of fall with maple as the flavor of the month for November.   
For those wanting a treat along with the hot drink in their hand, Grin City Bakery, located on 934 Main St., also offers their seasonal varieties of pumpkin and apple cider old-fashioned donuts.