Jingle Bell Holiday brings seasonal joy to Grinnell
When the wind pushed in the bitter cold, parents tended to their running children wrapped in mittens and scarves, neighbors caught up with one another and students laughed and chatted — all huddled around the gazebo in Central Park. 
Soon enough, everyone turned around for the park light-up ceremony. At the end of the countdown, the tree shined but quickly turned off. In the next few seconds, like a flicker, the tree shone again, but this time it was accompanied by glittering archways lining the park.
On Nov. 18, the Grinnell community celebrated the start of the holiday season with the annual Jingle Bell Holiday. Coordinated by the Grinnell Area Chamber of Commerce, this event aims to support and point residents towards local businesses early in the season for their holiday needs. This event has persisted for over 20 years.
The Chamber of Commerce coordinated with Grinnell College to offer shuttle rides to the corner of 5th and Broad Street to increase student attendance at the event.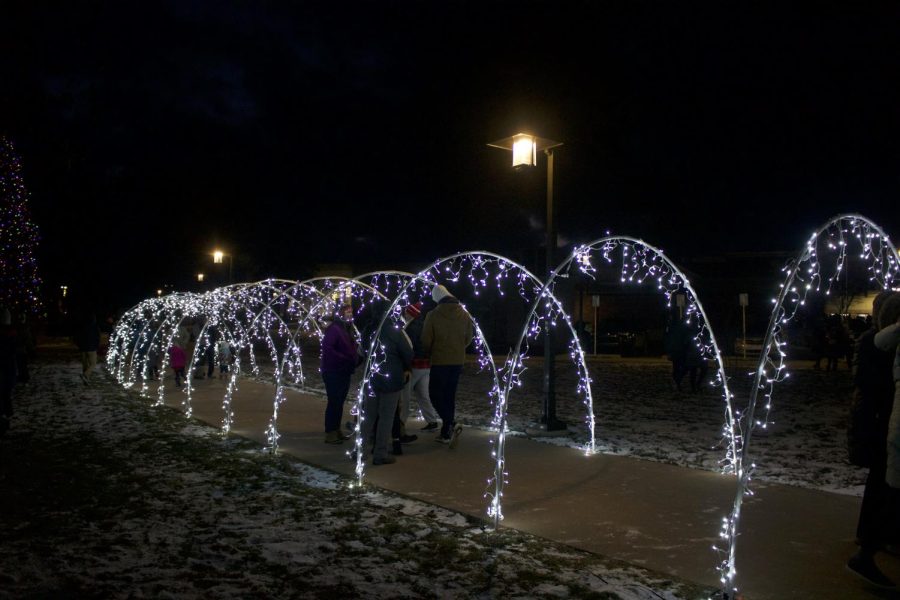 The event kicked off at 5 p.m. with opening remarks. Dancers from Michelle's Dance Company and Stepping Out Dance Studio came out on the stage and high-kicked to the sound of "Jingle Bells" in bright red holiday dresses. After the lights ceremony ended, it was time to start exploring all that the town had to offer.
At 5:30 p.m., there were free horse-drawn carriage rides around downtown Grinnell.
"Someone once said it takes a village, and our village is one of the best," said DJ John Cox, who played music throughout the event.
This year, volunteers introduced two new light-up archways that trace the walking paths of Central Park. Community members were invited to decorate mini trees, whose lights will be on daily from 4:30 p.m. to 11:30 p.m., and decorations are set to stay up until the end of the year.
"
Someone once said it takes a village, and our village is the best.
— DJ John Cox
Kendra Vincent, the member engagement coordinator for the Grinnell Area Chamber of Commerce, said that some townspeople joke that this event helps the town resemble scenes from a holiday movie.
"You have carriage rides and the lights and the shops are open," she said. "It really is kind of that cheesy Hallmark experience."
Across the street from the park, the Winter Farmer's Market was held inside Hotel Grinnell's ballroom. Local artisans and farmers sold holiday decorations, stocking stuffers, farm-grown produce and more.
One vendor, Sheryl Anderson of Bunny Traxx Ceramics, sold painted ceramic molds, kitchen aid and football-themed items. On her table, there were classic holiday red trucks carrying wrapped presents and gnomes topped with ceramic, light-up Christmas trees for hats. Visitors could pick up and examine the items to appreciate Anderson's handiwork. 
"I just like to watch people look at the items, and that keeps the inspiration going," she said.
Tony and Christina Sporer, who works part time at the College as an administrative assistant, run Tangled Roots Farm and participated in the market. They sell crops hand-picked from their farm, baked goods, ornaments, jams and more. This was their first time participating in the Winter Farmer's Market and experiencing the holiday season in Grinnell.
Christina said that they were surprised at the magnitude of the crowds that were coming to the event and that were receptive to their business.
"We're just happy to be here," she said. "Grinnell, of all places, is just a mini melting pot. Even though we're in the middle of nowhere in Iowa, there's still this really vibrant community."
Over 55 small businesses, shops and vendors included, stayed during Jingle Bell Holidays. 10 more businesses participated this year than last year.
In the coming weeks, the Grinnell community will continue its celebration. Strand 3 Holiday Merchant is offering free tickets to see "Bad Guys," "Minions: Rise of Gru," or "League of Superpets." These tickets can be picked up at a large number of sponsors, local businesses downtown, a list of which can be found on the Chamber website. 
Every Saturday in December, people are welcome to head over to Central Park from 10 a.m. to 12 p.m. to take pictures with Santa for "Santa in the Park."
More information on these events and others can be found on the Grinnell Chamber's website under the community calendar.