UGSDW outlines bargaining priorities
At the Union of Grinnell Student Dining Workers (UGSDW) General meeting on Sunday, Sept. 11, the Union announced their bargaining priorities. These priorities address wages, workplace harassment, discrimination and job protections for student workers. The S&B has collated and fact-checked these priorities. 
Last year, UGSDW hosted protests challenging workplace harassment in the mailroom and low student wages across all campus jobs. They reached an agreement with the College to have an election for expansion and won that election with 327 voting for and six against.
Now, UGSDW is preparing to bargain a contract which will include all on-campus student workers. The first bargaining meeting will take place on Oct. 6. 
Wage increase and pay tiers 
UGSDW stated that they would be both bargaining for a campus-wide wage raise and the end of the current pay tier system in their second newsletter, Worker Power,  published Sept. 13 of this year. In their newsletter, the Union said that the pay for all tiers is too low. 
Grinnell College currently has four pay tiers, with the highest wage being $12 an hour for lifeguards, and the lowest (Category 1) being $8.24 an hour for mailroom workers and building monitors. On Grinnell's website, Category 1 jobs are described as "routine, non-complex work."
UGSDW president Isaiah Gutman `23 said UGSDW disagrees with the current pay tier system.
"We want to end the current system of pay tiers," Gutman said. "What the current system of pay tiers does, in our opinion, is divide work based on its supposed level of skill and level of value to the College, which is really quite arbitrary."
For example, Gutman said, jobs like the mailroom are very physically demanding, and calling them "unskilled labor" is a disservice to how essential those positions are to the functioning of the campus. 
In addition, the current system of pay tiers takes away choice from low-income students, Gutman said. If all on-campus jobs paid more, students on work-study would not have to pick jobs based exclusively on wages. They could instead apply for positions that could help their resume, or that matched their career interests.  
"I've heard from a lot of people who say they work in dining, but they would like to work as a grader or as a research assistant or, you know, maybe work in the Bear because it's not as difficult to work in the Bear, but those jobs pay a lot less," Gutman said. 
According to the U.S. Citizenship and Immigration Services website, international students are limited in the types of jobs they can take due to the F-1 visa. While international students can still take jobs off campus, they must relate in some way to their major of study. Therefore, many international students rely on Grinnell campus jobs. Gutman said the wages off campus are typically higher than what the College pays. 
"They're [Grinnell College] relying on our work," Gutman said. "They're not compensating us like they're relying on our work. And that hits the hardest for low-income students, students on work-study and student workers who are using that money to pay for their living expenses." 
Gutman said that the Union is still considering potential contract proposals to include more of an incentive to work in dining, but there has not been anything specific announced by UGSDW. 
The Union advertised this issue both in their Worker Power newsletters and on their Instagram page with the slogan, "Grinnell pays poverty wages," a choice that Malcolm Galpern-Levin `24, an executive board member at large, said represented low-income UGSDW members.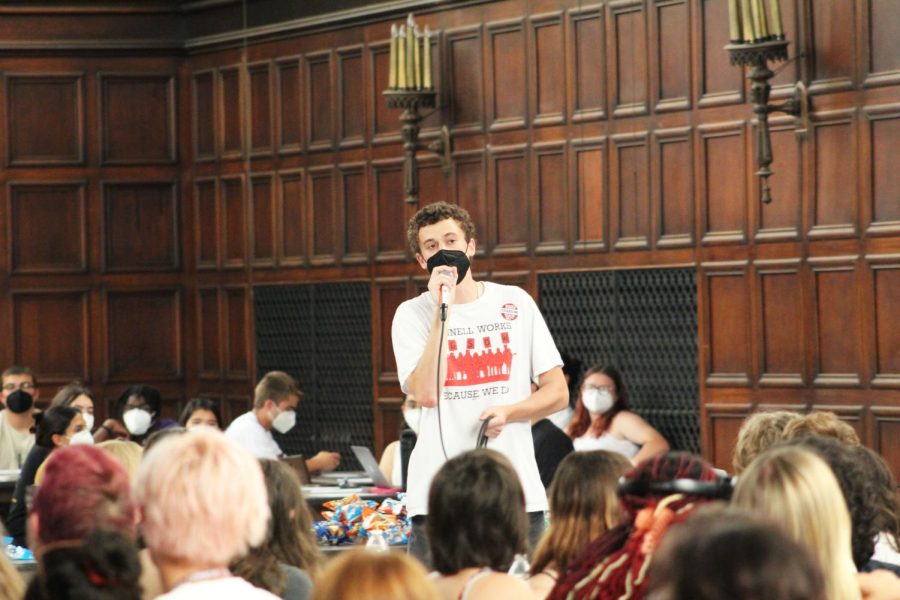 "The reason that we do this work and the reason that the Union exists, in my point of view, is to represent and fight for the struggles that low-income student workers face. Because regardless of whether they have [the] privilege to go to this institution," said Galpern-Levin, "There are still students on this campus that are facing severe economic hardship that have difficulty making their work-study, have difficulty paying for things like tuition or paying for the dining hall, the meal plan."
In their critique of the College's wages, the Union also included Grinnell's endowment of $3.4 billion, a figure that can be found in the College's 2021 financial report. Union leadership has acknowledged that this figure includes the College's total assets, but according to Galpern-Levin, the point stands regardless.
"We're talking about an absolutely absurd amount of money," said Galpern-Levin. "Point being, they have the financial resources to pay student workers much much more money, and they should." 
Workplace discrimination protections and real recourse 
UGSDW's other two bargaining priorities are recourse against workplace discrimination and instituting "robust job protections," according to the bargaining resolution and the third edition of the Worker Power newsletter. 
The Union's proposed solutions for issues of workplace harassment include mandatory nondiscrimination trainings and a grievance procedure that would be mediated by a currently unspecified neutral party. UGSDW has proposed that they "negotiate that independent process through the Union grievance procedure – providing Union representation for student workers and a neutral arbitration process for addressing cases of harassment and discrimination."
In the Sept. 19 edition of the Worker Power newsletter, UGSDW advocated for changes to current procedures for addressing workplace harassment, citing current issues with the Title IX process at Grinnell as well as the discrimination that mailroom workers organized to address in the fall of 2021. 
Just Cause Employment and establishing Grinnell College as a sanctuary campus 
UGSDW's third bargaining priority is what they call "robust job protections." The priority resolution involves two clauses: first, the establishment of Just Cause Employment, and second, legally establishing Grinnell College as a sanctuary campus for undocumented students. 
Iowa is an At-Will Employment state, which means that an employer can terminate an employee at any time, and does not need to give reason. This can be modified in contract clauses to give specific employment protections, such as Just Cause Employment. Under Just Cause Employment, there are specific protections that can be invoked upon firing, such as the seven tests to determine if there was just cause for the firing or not. These tests include: notice, past enforcement, due process/investigation, evidence, equal treatment, progressive discipline and situation. 
"If we can win Just Cause for all those students, all the student workers in the contract, it's going to mean a lot more job security for those people and it's going to mean that the College will have to face accountability if there is an unjust firing," Gutman said. 
Under the current Collective Bargaining Agreement, bargained for the 2021-23 school years, dining workers are already afforded some Just Cause protections. Currently, all other student workplaces operate under At-Will employment law, which means that an employer can terminate an employee at any time and for any reason.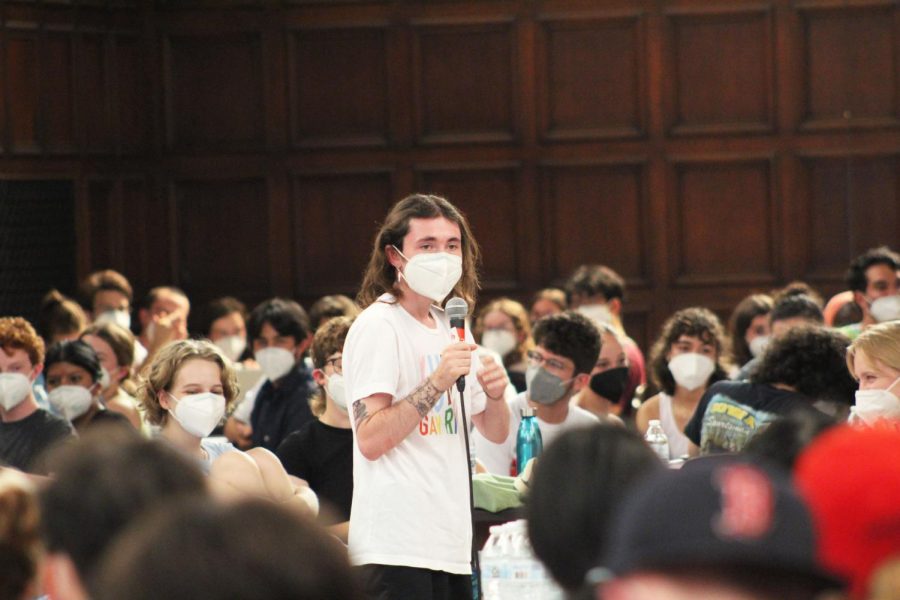 Lastly, UGSDW's final bargaining priorities also establish Grinnell College as a sanctuary campus. According to UGSDW leadership, this will protect the campus from being raided by U.S. Immigration and Customs Enforcement (ICE) or a similar organization without a warrant. Gutman cited a 2016 ICE raid in Marshalltown as part of the reasoning for this priority. In addition, Union leadership said that sanctuary campus status would protect all international students, not just undocumented workers. 
"It's absolutely true that student workers of color and international students are in a more vulnerable position," Galpern-Levin said. "And we believe that it's important, as rare or as common as these occurrences may be, that we, at least in the contract, fight for there to be protections in place." 
This priority also addresses the presence of Campus Safety officers at student workplaces. UGSDW alleged that Campus Safety officers have been creating an unsafe environment for student workers in the Spencer Grill. 
"We added a resolution after some discussion at the [Sept. 11] general meeting that we're going to fight to restrict campus safety officers present in workplaces, after some people brought up concerns that they've had experiences with Campus Safety surveilling student workers on the job," Galpern-Levin said.  
James Shropshire, the director of Campus Safety, disagreed with UGSDW's position. 
"This allegation is unfounded and untrue," Shropshire wrote in an email to the S&B. "Campus Safety, as a matter of policy, does not undertake surveillance of any member of the campus community or individual location on campus." Shropshire said that each building on campus is checked once per shift, and there are three shifts each day, but that no intentional surveillance has taken place. 
Looking towards bargaining 
The Sept. 26 issue of Worker Power announced that the first bargaining session will be held on Oct. 6.
"The bargaining team right now is working on drafting, editing, editing again, and editing again, proposals and finally finalizing them," Galpern-Levin said. "We are going to have a vote on the proposals, everything again. It's all about transparency."
Besides the UGSDW members who comprise the bargaining team, Galpern-Levin said UGSDW's organizing team is also consulting with student workers to understand student workplace issues. 
"Bargaining sessions are open to anybody who would like to attend," Galpern-Levin said. "And we are going to encourage every single student worker on campus and every student who is able to come to those events because it's important that we show the College that this is something that we care about, and that student workers are paying attention to what the College says and paying attention to what the College is going to deny us as student workers." 
Editor's note: Isaiah Gutman is the Sports Editor. Gutman was not involved in the writing or editing of this article. 
As student workers, all staff members of the S&B will be included in future collective bargaining. The S&B remains an independent newspaper and is committed to maintaining its integrity in reporting.