"tag," you're it: Rebranded student trans group renews commitment to advocacy
Although some version of the organization has been on campus since 2006, the resource group Trans at Grinnell hopes to reinvigorate its goals of advocacy and community. Once called the Trans Action Group, the same initials have also stood at one point for Trans Anarchy Group. Now that the organization has rebranded itself as "tag" (all lowercase), leaders Jay Kratz `23 and Romeo Garcia `23 are not worried that the lack of a capital letter will hamper tag's visibility. 
Garcia said that tag, which operates out of the newly renovated Stonewall Resource Center (SRC) in the Younker pit, is meant to be a place of support. "It's a space to create trans community, to empower each other and find belonging at Grinnell," Garcia said.
Robby Specht, assistant director of intercultural affairs and supervisor of the SRC, has been instrumental in kickstarting and approving tag's initiatives, according to both Garcia and Kratz. Kratz said that after the pandemic, the institutional memory of tag began to decline. However, "to have someone that can just be the guardian of that knowledge and all of those resources," said Kratz, "is so, so, so important."
Additionally, Kratz said that they want advocacy meetings to serve as a space "that is welcoming, first and foremost, to trans students to be able to bring any issue that they have to us and find a place where they can have support."
"We're really starting out by going back to the absolute foundations," said Kratz. Because both Kratz and Garcia explained that they want to start from the ground up, they want their advocacy meetings to be an environment in which students explain what resources students need, rather than making assumptions.
While advocacy meetings are open to cis allies, "it's not like a Trans 101 class," said Garcia. "That's a very important distinction we make: We center trans students in this space above all else."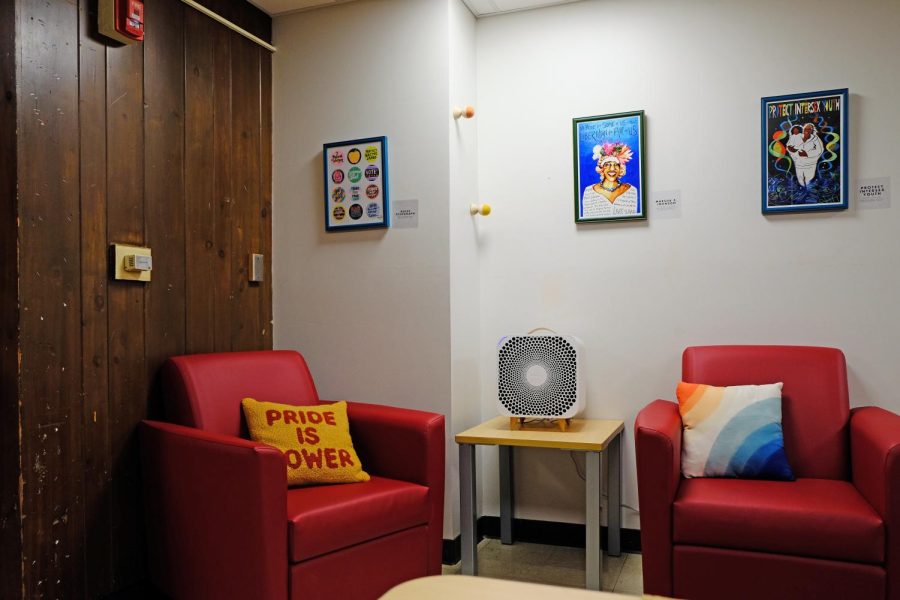 At their first advocacy meeting on Sept. 17, Kratz and Garcia said that attendees agreed that Noyce needs gender-neutral bathrooms, outdated language on certain College forms should be changed and transgender students should be more involved in selecting their roommates.
Kratz said students have been trying to install trans bathrooms in Noyce since they came to Grinnell in 2019. "I don't have hope, honestly, of seeing that change in my time here. However, if we can keep being persistent and create a long-lasting foundational space," said Kratz, "That's the best we can do at this point."
Finally, Garcia and Kratz discussed their new initiative of trying to find the best binders for students that use them. Binders are undergarments that help to flatten breasts and are used most often by trans and gender non-conforming individuals. The tag co-leaders said that they noticed that many of the gc2b brand of binders in the SRC and in the gender-affirming apparel program garnered criticism from students who had issues with the sizing and overall quality.
Tag received administrative approval to begin a confidential binder trial program in which students would sample different kinds of binders and anonymously report about how they felt in them. The binder trial volunteer form says that the goal is to have participants with a variety of measurements to ensure that the brands they eventually choose work for a diverse array of body types. Currently, tag is waiting for more participants before officially launching the program.
For trans students, discussing these issues in a supportive environment, Kratz said, "lets them know that they're not necessarily alone."
Indeed, both Kratz and Garcia emphasized the importance of community for trans and other queer people. They encourage all people in the SRC to be open and welcoming and to remember that it is specifically a queer-student-focused resource center.
"Just being in a space where I know that I'm not the only trans person is so rare in rural Iowa. To be able to have that is kind of life-changing," said Kratz. In fact, Garcia, originally from Oklahoma, said that he never found a trans community until coming to Grinnell.
While reflecting on what tag and the SRC means to them, Kratz said, "One of the most beautiful parts of just being in this space, now that it's coming back to life, is being able to actually make all these different connections with people from all different years, all different flavors of queer and walks of life. Having a gathering space is just so crucial."