"The Davis smile:" Honoring the legacy of Davis Cooper `26
Davis Cooper `26 had a contagious smile. According to his roommate, Luke Robinson `26, Davis sometimes asked if he should fix the gap between his two front teeth. Some of Davis's teammates dubbed the signature grin "the Davis smile" or "the Davis gap." "Someone called it that, and I was like, 'That's so true,'" said Robinson.
Davis Oakley Cooper was a first-year student at Grinnell College, where he also played as a linebacker on the college football team. He was only 18 years old. 
When Davis's parents visited Grinnell in early November, they placed a cross at the spot where he died on Oct. 31. Etched on it was Psalm 138:8, "The Lord will fulfill His purpose for me." 
On Nov. 7, some of Davis's coaches and teammates gathered on the football field to light lanterns in his honor. Since the lantern send off, other Grinnell students have found ways to celebrate and remember Davis's life and provide spaces for grief and healing.
Adam Khater `23 played with Davis as a fellow linebacker. He became quick friends with Davis, who Khater said "really identified himself as a football player. A lot of the things you learn in football, they teach you, they prepare you for life."
Khater said that both on and off the field, Davis's passionate, positive energy was infectious. The two often played poker together, but when asked if Davis was skilled at the game, Khater responded, "No, he was incredibly easy to read. Sorry Davis, if you're listening."
When he arrived at Cowles Hall on his first day at Grinnell, Robinson met his new roommate: a smiling, shirtless Davis. An easy going guy himself, Robinson said, "it was pretty funny."
Robinson runs cross country at Grinnell, and he said that his and Davis's passion about their different sports helped to bond them almost instantaneously. Though admittedly not a night owl, Robinson said that he and Davis would stay up for hours talking about sports, classes and anything else they could think of. Robinson's favorite memory of Davis is simple: "just talking to him every day."
According to both Robinson and Khater, Davis had no difficulty making new friends. "He'd be talking to all sorts of different guys … all sorts of different girls," said Robinson. In fact, Khater only had one answer when asked about Davis's personality: confidence.
"Davis was just an amazing individual. He'd always be there for his team, he'd always be picking people up, on and off the field," said Khater. 
Kameron Ward, a volleyball and track and field coach at Davis's alma mater, Notre Dame High School (NDHS), recalled Davis's kindness and friendly smile. Ward wrote in an email to the S&B, "Davis was truly a one of a kind young man … he was the type of person who made you feel better simply by being around him."
Davis played as a linebacker for the NDHS football team, the Knights. NDHS football coach Joe McNab said that Davis was "very competitive. He wanted to be really good, he played hard."
On Nov. 4, NDHS honored Davis and the Cooper family. Every football player and many people in the crowd held a yellow paper with the number four on it — Davis was #4 at NDHS and #5 at Grinnell. McNab said that the player who wore the #4 jersey this year gave it to Davis's younger brother, Elliot, who will wear Davis's number as he plays out the rest of the season. 
"I thought that was a really beautiful, heartfelt thing to do for him and his family," said McNab.
At Grinnell, many members of the football team have honored Davis by wearing black T-shirts that read "LLDC5," long live Davis Cooper #5. 
Brent Barnes, Grinnell head football coach, said that when Davis committed to Grinnell, the coaching staff were elated. "He's a charismatic guy [who] definitely stood out to us," said Barnes. "We were very, very happy to get him, not just from a talent standpoint, but also just someone with his leadership skills."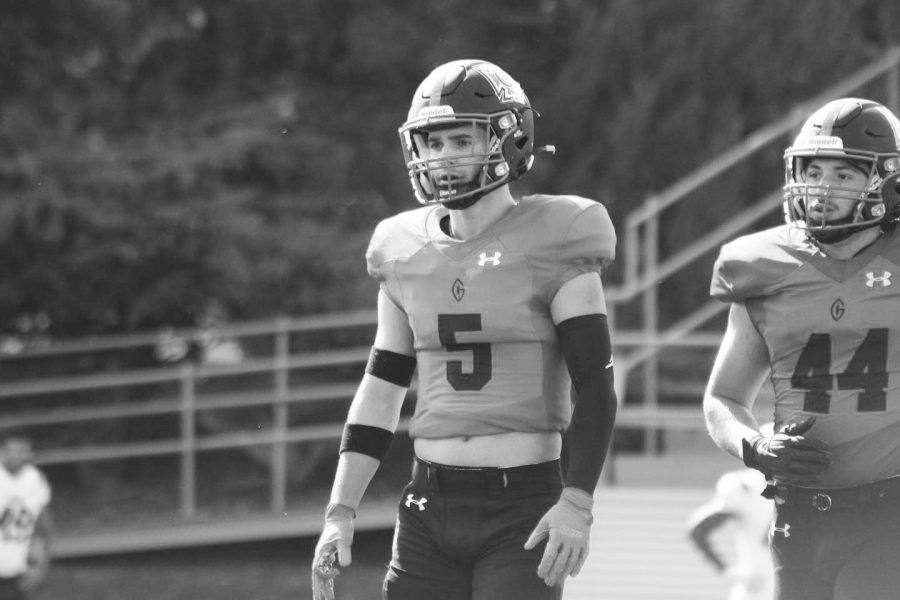 Jason Martinez, defensive coordinator and assistant coach for the Grinnell football team, began recruiting Davis during the spring of 2021. "He fit everything we want, from an outside linebacker perspective. He was the type of kid that you can build a defense around. He was super, super athletic, very versatile and was a great football player," said Martinez. "And he knew the advantage of going to an institution like Grinnell College."
Martinez said that soon after Davis committed to Grinnell, he texted and communicated with many of his other newly committed teammates. He would often text Martinez to ask about particular exercises, methods of training and to see Grinnell's playbook. According to Martinez, Davis was "very passionate about whatever he was doing, whether that was football, working out, in the classroom or just the social life of just trying to be a great friend."
Within the first three days of summer conditioning, "you could tell he was getting very close with teammates. He seemed to already be an integral part of the team." Barnes said, "his ability to bond with just about everyone on the team was pretty special."
Martinez also emphasized Davis's desire to succeed academically. He said, "One of the brighter things about Davis was yes, he was a really good athlete and football player. He was a great, great human being, but he was also very intelligent. He worked hard to not only do well academically, but also make sure his teammates [did] as well."
Davis's high school principal, Alice Cotti, said that while at Notre Dame High School, he enrolled in a rigorous academic program, with a particular focus on advanced math and science. Cotti said she was overjoyed when she saw Davis in the school courtyard wearing a Grinnell sweatshirt. 
"I remember telling him that it was one of my favorite liberal arts colleges," Cotti wrote in an email to the S&B. "I was so proud that he had discovered such a highly regarded school, a hidden gem of a place that not many kids from Southern California know about. I was so happy for him."
Though Davis spent less than a semester at Grinnell, his impact on campus was undeniable. 
On Nov. 1, Grinnell College held a grief and support session in the Joe Rosenfield Center room 101, where many of Davis's friends, classmates and teammates shared memories of Davis. Approximately 300 people gathered to exchange stories and discuss the process of grieving. The event lasted nearly two hours, and at the end many of the remaining people embraced each other.
"It just showed that a lot of people were impacted by Davis. They supported us [the football team] as well," said Khater. 
Two weeks after the grief and support session Rachel Woock `23 and Julianna Vadja `24, both volleyball players, helped to organize a "Remembrance Walk" for Davis, which they held on Sunday, Nov. 13. Both Woock and Vadja wanted to help support the football team and anyone else grieving by creating an activity that allowed for "grief through exercise," said Vadja.
"I wanted another opportunity to show up for each other," said Vadja.
Woock is a co-leader of the Student Athlete Mentors, which include a representative from each sports team who serves as a support person. "A big part of SAMs is supporting our teammates and the rest of the Grinnell student community. We have a lot of knowledge of resources that we use to help our teams."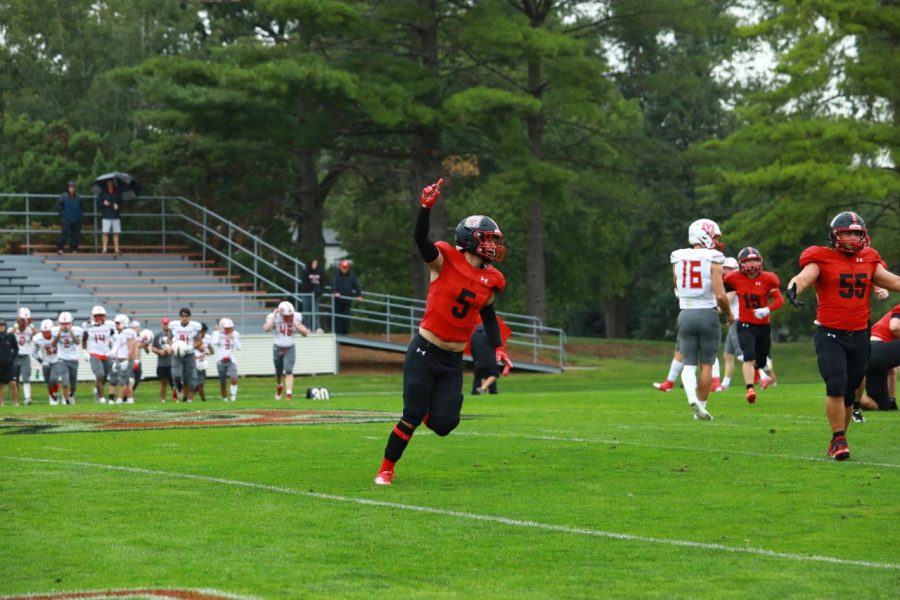 But after hearing the news of Davis's passing, Woock talked with the SAMs to remind them, "don't feel pressure to feel in charge of your whole team in the grieving process, because you're a human, too."
Woock said she enjoyed "not forcing anything to happen but just coming together. And just talking, we found a lot of value in that."
Barnes said that the football team "certainly rallied around each other… It's been a long month. In some ways, it feels like this happened six months ago. Some days you wake up and it feels like time starts to lose some identity."
"I want to acknowledge and stress the importance of mental health. A lot of guys on the team have been suffering," said Khater. "I'm scared for my teammates … We need time."
After Davis's death, Robinson transferred to a different room in Norris Hall, but he said that construction noise and the room's placement next to the fire escape prevented him from sleeping well. He slept at his cross country coach's house for a few nights before returning to his original dorm room in Cowles. 
"Coming back [to Cowles] could be a reminder of Davis, which you can think of as a sad thing, but you could also think of it as a good thing," said Robinson. "I think about Davis, so it can feel sad, but it's also good, [because] he was a great person."
Robinson said that he finds inspiration in Davis's passion and dedication to his sport. "Davis doesn't have the chance to compete anymore, so I just want to go out there and do what he would do and be the best I can be," he said.
"So many of our young alums in college come to campus to visit us when they are home for Christmas, and we are struggling with the fact that [Davis] won't be coming back." Cotti wrote, "Instead we will be attending his memorial service [in Los Angeles]. He has the most wonderful family, and we would ask all of you in the Grinnell community to keep them in your prayers."
Davis is survived by his father Darin, mother Beverly and younger brother Elliot. On Dec. 20, the Cooper family will hold a memorial service for Davis in Los Angeles, California. 
The Cooper family has requested privacy at this time and were unable to be reached for comment.