Spencer Grill meal-swipe alternative met with mostly positive reactions
The Spencer Grill has begun offering a new meal replacement plan allowing for students to use their Dining Hall swipes on meals on weeknights between 8 p.m. and 10 p.m. The plan, which was implemented after fall break, offers four meal options for students to choose from after the Dining Hall closes each night. 
The new option for meal-plan-covered meals after regular dining hours has had positive feedback from some students who say that this option better fits their schedules.
"If you miss dinner at D-hall, you don't have a lot of other options, especially if you don't want to spend your dining dollars," said Wallis Shepard `25.
Diona Plakolli `26 said that the meal replacement plan works better for her because in her home country of Kosovo she is used to eating dinner at later times. "Eating at 6 p.m. just feels too early for me," she said.
 Medhashree Adhikari `26 agreed with that sentiment, saying, "I usually put off getting dinner in the Dining Hall. Plus, I don't usually eat breakfast, so I have a way to use my extra swipes."
Student-athletes have also found the plan helpful as it allows them to eat dinner even if their practices regularly interfere with the Dining Hall hours. Bella Nesbeth `26, a player on the softball team, said that during the winter she is not able to make it to dinner due to practice running from 6:30 p.m. to 8:30 p.m. "So I'm definitely a big fan of the meal replacement plan," she said.
The meal replacement plan gives students four options for their meals which rotate every week. Since the installation of the plan, the Spencer Grill has offered a variety of foods, including crab rangoon, fish and chips, black bean burgers, egg rolls and chicken tenders. According to Jeanette Moser, director of dining services, nearly all meals are prepared within the Spencer Grill itself, except for the allergy-friendly options, which are prepared in the Marketplace Dining Hall.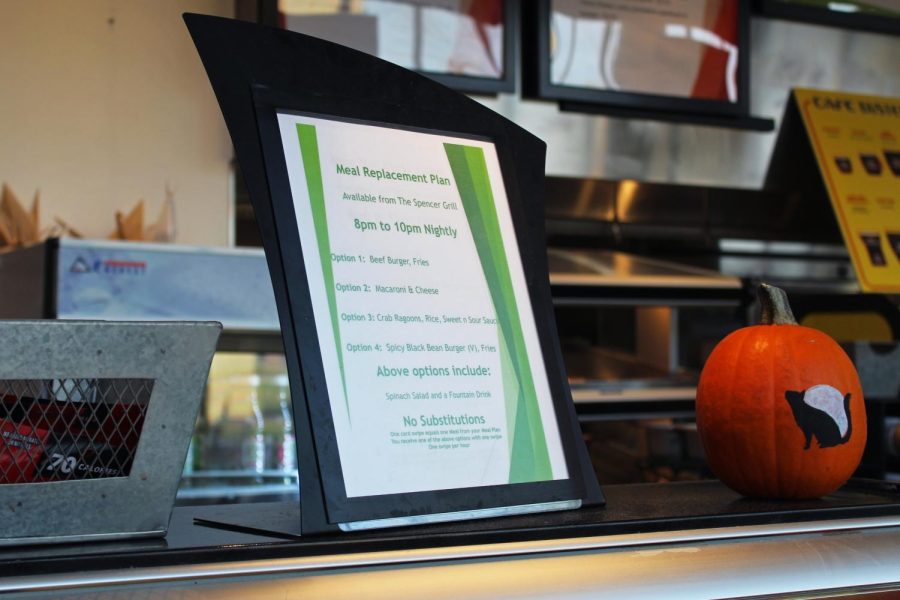 According to the students who spoke with the S&B, the quality of the food has been overall positive. These students unanimously agreed that the food offered at the Spencer Grill was generally better than the Dining Hall's dinner offerings.
"It's definitely more consistent than the food in D-hall," said Shepard, "and I can count on this food being pretty good. At D-hall, sometimes it's great, and sometimes it's less than great."
 "We have had a good number of students utilizing this program, and we have had compliments from some of the students," Moser wrote in an email to the S&B. "Overall, we believe the meal replacement program to be a good success."
The addition of gluten-free meals — a spicy black bean burger and a macaroni and cheese option — were added after Will Chapin `24 reached out to the Spencer Grill management about the lack of gluten-free options.
"Overall, I hear gluten-free students say that they just don't have enough access to food," Chapin said. "I sent the Grill a heavily worded email about this, and they claimed they always intended to offer gluten-free options, but I can't confirm whether that's the case."
Despite the reception of the new meal replacement plan, the Spencer Grill has faced some setbacks, including staffing issues. Hope Ware `26, a student worker at the Spencer Grill, said that the lack of student workers during night shifts led to staff being overwhelmed with the number of orders. "People order regular items on top of the meal replacement options, so it's overwhelming," she said.
Multiple Spencer Grill supervisors declined to comment on the addition of the meal replacement plan, saying that Moser had advised them not to speak with the S&B. As of Nov. 10, Moser has not responded to multiple requests for comment on this claim.