A Look Inside: Second Mile
Second Mile, though disguised as a thrift store, is a vibrant community for members of Grinnell from all walks of life. Located just east of downtown, the non-profit organization has been making clothing and home goods accessible to Grinnell residents for over three decades.
Second Mile's inventory includes a wide array of items. Clothing, accessories, books, dining sets, home decor, antiques and other miscellaneous trinkets can all be
purchased for low prices within the store's walls. Deanna Vogt, director of Second Mile since 2009, said that donations are primarily sourced from Poweshiek County residents, though they also come from nonprofits throughout the entire state of Iowa.
Second Mile was born out of a vision from Bob Towner and Diane Wasson, members of the Grinnell Ministerial Association. The original concept was for Second Mile to be a community center serving underprivileged Grinnell residents, offering counseling, transient housing, food and clothing.
With this goal in mind, and with the support of several non-profit groups such as the ministerial association and Church Women United, Second Mile began to operate out of the basement of the Grinnell Veterans Memorial Building in 1987, sharing the space with the Mid Iowa Community Foundation (MICA).
Though originally offering a host of services, the most popular aspect of Second Mile quickly became the Clothing Closet, a program in which people could receive donated clothing at no cost.
Several years after opening, Second Mile began to charge low prices for items to cover operating costs. As sales increased over time, Second Mile started to gain a profit, leaving them with more funds than they originally intended.
Vogt said that the success of Second Mile has contributed to their ability to give to other nonprofits. "The clothing store generated so much income that we couldn't put all of our eggs in different baskets," she said. "So, instead of duplicating already- offered services, we can give to them financially to help out through the revenue of our sales."
In 2019 alone, Second Mile donated $40,000 to other Poweshiek County non-profit organizations, including MICA and the ministerial groups that helped found the thrift store.
In 2002, Second Mile moved to their current location on Third Ave., which has since undergone multiple renovations to accommodate their growing inventory. Following the success of the Clothing Closet, Second Mile expanded their focus from solely providing affordable clothing and household goods to supporting other community initiatives, such as MICA, for those who need further help.
Second Mile offers a sense of community for members of Grinnell who may otherwise not have one. "A lot of individuals that come here live alone," said Vogt. "[Second Mile] may be their only source of interaction with other people."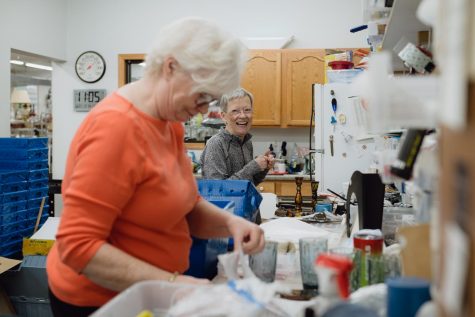 Furthermore, Second Mile is a point of unity for many members of the Grinnell community — elder members, low-income families and college students. Vogt said that people shop at Second Mile for a variety of reasons, whether it be a financial necessity, sustainability purposes or just to save money on new clothing.
"It has a social impact of people making connections they otherwise might not," said Vogt. "I think the most exciting thing for me is to see different interactions amongst all walks of life."
Second Mile also provides a sense of solidarity between volunteers. At the moment, Vogt is the only person working full time to sustain Second Mile, with five additional paid part- time employees. All other donation sorting is completed by volunteers, many of whom serve as elder members of the Church Women United organization, with the oldest volunteer being 90 years old.
The thrift store is always looking for volunteers, particularly college students. "We love our students," said Vogt. For those interested in giving their time to Second Mile, they can reach Vogt at deanna@secondmile.org for more information.