Grinnell businesses kick off Women's History Month
If you walk into one of Grinnell's local businesses this month, your direct eyeline may land on boxes of maxi pads and tampons.  
As a part of S.H.E. (Supporting Helping Empowering Women) Counts's initiative to make period products more accessible, 16 businesses in the Grinnell area kicked off Women's History Month with the Women + Friends: Women's History Month Night Out event on March 1.   
From 4:30 to 6:00 p.m., participating local businesses, the majority of which were women-owned or women-operated, stayed open later to allow for patrons to shop deals.  
People were encouraged to drop off pads, tampons, panty liners, menstrual cups and other period products. From 5:30 to 7:00 p.m., local wine bar Solera was open for happy hour and raffles with local goods  for people who donated period products or at least $5 to the supply drive. 
Donations will later be made to the Grinnell Middle School and Grinnell-Newburg High School, Mid-Iowa Community Action (MICA) Food Pantry and Drake Community Library. The drive will last for the month of March.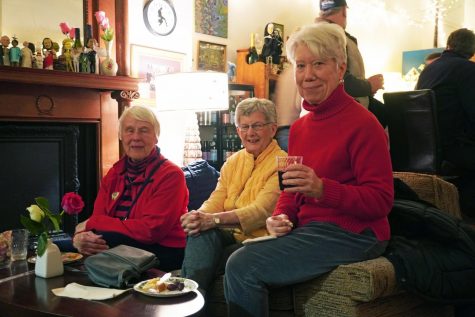 Though not all the participating businesses are women-owned or women-operated, a majority of Grinnell's retailers fall in this category, and there is an even split between women-owned and men-owned businesses, according to Kendra Vincent, member engagement coordinator of the Grinnell Area Chamber of Congress (GACC.)  
There are also 16 flyers highlighting different iconic Grinnell woman posted on the doors of the 16 participating locations. This was done with the help of the Grinnell Historical Museum.  
"This was just kind of a nice way to highlight the impact that some ladies had in our town," said Vincent.  
For example, one of the flyers refers to Edith Renfrow Smith `37, the first Black woman to graduate from Grinnell College.  
In collaboration with the S.H.E. Counts program, a part of the Claude W. and Dolly Ahrens Foundation, the GACC and insurance company Grinnell Mutual organized this event. Vincent  said that some S.H.E. Counts board members are employees of Grinnell Mutual, which is what spurred this collaboration.  
Lori Vos, owner of Lorelai's Giftshoppe and Village Decorating Studio, has been involved in Grinnell retail for over 40 years. As a current board member of the GACC, she said that they have been discussing a way to promote local businesses for "this slower time of the year." After the end-of-year holiday shopping season, Vos said that Grinnell businesses have historically found a decrease in business.  
The GACC thought that a collaboration with S.H.E. Counts would be "the perfect fit," according to Vos. She also said that she has observed an uptick in these kinds of local business promotional events over her time as a business owner in Grinnell.  
"
I think it's a great seed to be planted.
— Lori Vos, owner of Lorelai's Giftshoppe and Village Decorating Studio
Colleen Klainert, owner of Solera, offered free wine to those who attended the event. She said that a friend, who is a frequent Solera customer and a Grinnell Mutual employee, brought this event up to her, and so Kleinert offered her business.
The week before the event, Klainert positioned boxes of period products to be right at eye level when customers walk through the door of her business. She also had a picture of a maxi pad on the cover of her pizza menu, which acted as an invitation to the Women + Friends event.  
She said that the conspicuous presence of period products has made some patrons uncomfortable.   
"Hey, you know what? You think it's uncomfortable to look at?" said Klainert. "Try needing one and not having one. That's uncomfortable." 
However, she also said that her customers have been engaging in conversations about period products and that this drive has raised awareness for this need. In particular, Klainert noted a conversation she had with a friend about how some people who are on their period skip school because they do not have access to the supplies they need.  
Klainert said that since the Trump administration, which she called a "big wake up call," she and her friends have been trying to find more ways to help people in the community who are excluded from governmental assistance. 
"If you can't count on the values of your government, you better count on the values of your neighbors," Klainert said. "And I got really good neighbors."