From fist bumps to knockouts: Smash at Grinnell hosts tournament
Every Super Smash Bros. tournament game starts with a fist bump. In the background, the chatter of friendly warm-up matches and the click of controller buttons can be heard alongside a soundtrack that runs the gambit of Nintendo intellectual property.  The pre-Smash fist bump, much like boxers touching gloves, seems to transcend verbal communication in a quiet moment of mutual respect before characters are selected and the real match begins.
On Saturday, Feb. 25, Smash at Grinnell hosted an all-campus Smash Bros. tournament. The competition was organized in bracket style, with 32 participants and culminating in a final showdown on the big screen in the Harris Center Cinema between Joel Choi `23, who placed first in the tournament, and Finn Donnelly `25, who placed second.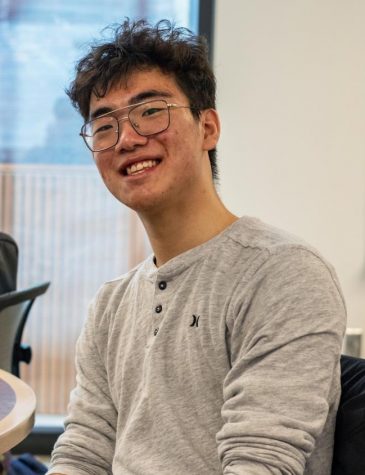 Before the tournament started in Humanities and Social Studies Center room N3170, one of the few rooms large enough to host such a competition, the Smash at Grinnell organizers set up stations of Nintendo Switch consoles with a variety of controller options to fit every preference. 
A fighting game series from Nintendo, Super Smash Bros. allows players to select a character from a variety of Nintendo properties, ranging from Mario from the "Super Mario Bros" franchise, to Cloud from "Final Fantasy" and Link from "The Legend of Zelda" to duel on a variety of stages also taken from iconic Nintendo games. Each character has a unique set of moves and abilities. 
Choi was interested in Super Smash Bros. before he had a chance to play the game. He watched videos of games on YouTube, he said, and when he came to college, Smash was the first esports game he played in a competitive scene. The club also allowed him to find a new community of people, Choi said. 
"I was really happy to find this community," said Choi. "I made a whole lot of new friends here." 
In his first tournament, Choi placed second. This year, he won the tournament playing as Incineroar, a pokémon from the "Pokémon" franchise. 
"I play a very heavy character, so I live for a long time, and my goal is to hit as hard as I can and just punish people as much as I can, so that's kind of my game style," Choi said. 
There are specific considerations to make with a heavier character, according to Choi — Incineroar's attack strength and move-set also means he is very slow. 
"Because he's heavy, he lives for a long time, and I could take risks which I really like," Choi said. "If people make one slight mistake, I like to capitalize off of that."
"
I play a very heavy character, so I live for a long time, and my goal is to hit as hard as I can and just punish people as much as I can, so that's kind of my game style"
— Joel Choi `23
However, in the penultimate round of the finals, Choi switched from Incineroar to Cloud, which he said was a response to his opponent switching to Toon Link, a choice that caused the audience watching in the cinema to gasp and murmur. Each round of finals was out of five matches, and by the third match, Choi only needed to win one more, but his Cloud lost to Toon Link. After switching to Incineroar for the final match, Choi secured his first ever Smash tournament victory to the sounds of applause, chanting and the backing music for the Pokémon stadium. 
"This is the fourth tournament I've competed in and the first time I've ever gotten first place, so I'm very thrilled," Choi said. "I was super nervous, but I had a lot of fun. I think everyone played so well today, and I couldn't ask for a better tournament." 
The sheer variety offered by the eclectic group of characters keeps the game engaging for both players and spectators, according to Axel Saries `25, one of the club's founders. 
When Saries helped found the club, an important consideration was keeping the space inclusive to less experienced players. He said keeping this welcoming environment while also encouraging a fun and competitive one was important to him when organizing the tournament. 
Many of the tournament participants were active members of Smash at Grinnell, but there were some first-time attendees as well, including Sophie Kempenaar `26, who had played Super Smash Bros. at home but never been to the club. Kempenaar said she preferred to play as female characters, especially Zelda and Corrin, a character from the "Fire Emblem" games. 
Kempenaar said her main goal at the tournament was not to win, but instead to show up in a space where there were not many women, even if she did not excel. She cited the fact that the number of women on the bracket was in the single-digits.
"I think the standards for women especially are so high, like you have to be so good to even come close to the same level of respect as other people," Kempenaar said. "So I feel by coming here and sucking, I'm actually making some sort of feminist statement." 
"
So I feel by coming here and sucking, I'm actually making some sort of feminist statement."
— Sophie Kempenaar `26
Although the stakes are not as high as a professional tournament, it is still very important to players that they do well, Saries said. Thus, it is important to keep things like seating in mind to prevent stress of unfair matchups — especially since the club is small and meets weekly for friendly matches.
Saries said he likes to watch a lot of esports in general, and he is often surprised by the outcomes of Smash games he watches. Because things are so variable, especially when two players are well-matched in skill, it can be easy for a very good player to slip up or for someone unexpected to win.
Because of this variability, no two games are the same, Saries said. This is something that Phukao Prommolmard `25, another club founder, also mentioned. 
The tournament matches are best out of three, until the finals, which are best of five. Prommolmard said that even while watching the same players in three or five consecutive matches, the game does not feel repetitive because the players continuously adapt to each other. 
"Adaptability is something that's really important," Prommolmard said. 
Due to the nature of the game, it is very difficult to predict how each player will act and react. But the ability of a player to do exactly that, to predict what their opponent will do next, could make the difference between winning and losing, according to Prommolmard.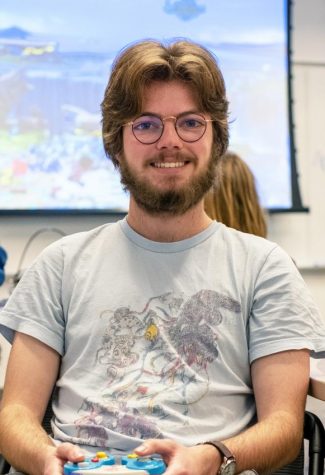 "One of the abilities that we talk about a lot is called 'reading,' which is when you predict your opponent's movement, which is something that usually decides how a match goes," Prommolmard said.  
Zade Mullin `24, another founding member, likes to play as either Zero Suit Samus from "Metroid" or Solid Snake from "Metal Gear". While playing as Solid Snake against Gus Braun `25, he talked about the differences between playing Smash casually and in competition — even in a friendlier competition, like the tournament at Grinnell, the energy changes. 
"I feel like when you play competitively, you find yourself, at least for me, I just play significantly better," Mullin said. 
"Some people, when you watch them move just with their character, … you can tell they're always exactly where they want to be," Mullin said. "That's why I like watching competitive Smash, like really high level Smash." 
"So crazy. It's like, beautiful," he added. 
Editors note: This article has been updated to reflect the correct final match-up of the tournament of Joel Choi `23 and Finn Donnelly `25. An earlier version of this article incorrectly stated the finals were between Choi and Finn Dierks-Brown `24. Updated Mar. 6, 2023, 4:43 p.m.