True Grinnellian: Colleen Klainert
I recently met Colleen Klainert, owner and sole employee of Grinnell's upscale wine bar, Solera, and talked about her career for nearly an hour while she continuously prepared pizzas for her evening patrons. At the interview's end, we shared a champagne toast, and I went home with the rest of the bottle — an apt and generous gift on the day after I turned 21. The parting was a testament to Klainert's contagious generosity and love for her customers.
In the ceiling of Solera's kitchen, a peculiar object peers down from a hole — a Mr. Potato Head doll. "Mr. Potato Head has become kind of my thing. He's been in every kitchen I've ever cooked in," said Klainert. In fact, when Klainert worked her first job in a kitchen in the Alaskan bush, she brought one along. "It's just good vibes," she continued.
Over the years, Klainert has compiled an impressive and arguably eclectic resume featuring various jobs and restaurant gigs. But, she said that ever since her first introduction to the restaurant and alcohol sales business, her dream has always been to start her own wine bar.
"
Potato Heads saved me on a lot of occasions.
— Colleen Klainert, owner of Solera
For nearly 10 years, Klainert worked as a special education teacher in her hometown of St. Paul, Minnesota. In her thirties, she studied feminist literature and Italian language at the University of Minnesota. "I wanted to major in everything. I'd been exposed to nothing — my world was really small," Klainert said. (When I informed her that I major in gender, women's and sexuality studies, she joked, "see you in the restaurant biz!")
After an extended semester abroad in Italy, Klainert fell in love with the Italian culture and food and wine scene, and she won a scholarship to return to Italy after she graduated at 35. She spent the majority of her time in Milan, Bologna and Rome, all of which she said inspired her future menus and intensified her desire to start her own business.
Back in St. Paul, Klainert was surprised to secure a job interview in liquor sales despite having no experience. Klainert said that she approached the interview under the assumption that she would not land the job, but she was hired unexpectedly and later moved into fine dining. "I was a curiosity," she said.
Throughout her various careers, Klainert has found value in unorthodox means of communicating. Once, Klainert gave a Mr. Potato Head doll to a particularly crotchety customer, and he later became a loyal patron and friend.
"Try unconventional means," she said. "There are certain common tracks that I think we all relate to, like humor or a bad day. There's a lot going on behind facial expressions of anybody in any situation. So take a second try to make them laugh or something. You know, you've made an attempt to find a common humanity. It's pretty helpful."
Klainert worked in bigger restaurants in the Twin Cities before moving with her then-partner to Ladora, Iowa. There, in a town of just a few hundred residents, they turned an old bank into a wine bar and quickly amassed a group of devoted customers.
In 2021, she left the Ladora Bank Bistro in search of new opportunities, and, after months of struggling to obtain a loan, she found a property on 829 Broad St. Initially intimidated by the space's size and the daunting tasks ahead of her, Klainert soon opened Solera, and it has been on Broad Street ever since.
"By design, I got to start with a pretty much blank slate. I wanted to create small social spaces where people could get together, and chat and be in a dining hall environment." She said that she does not care who you are "as long as you're comfortable and happy."
Since opening Solera, Klainert has remained the sole employee. Managing the books, preparing food, bartending and menu planning are only some of her responsibilities. But she would not have it any other way. "I think I probably thrive on the variety of activities that have to be done. There are days when I'm running around like an idiot, and I don''t really mind that," she said.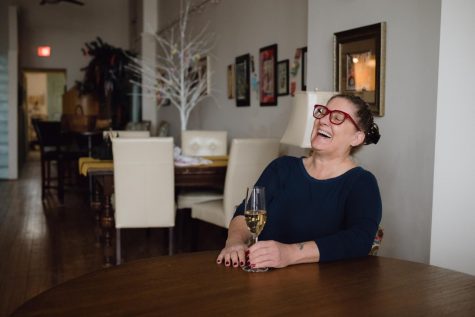 Four years ago, when Klainert was diagnosed with a brain tumor, her customers rallied and supported her and the business for six weeks. After recovering, Klainert changed her menu to include pizzas because it became too cumbersome to prepare the individual and handcrafted pastries from her previous menu. Her customers were more than receptive, she said.
During the pandemic, Klainert changed to a takeout-style business model, and she praised her customers for once again keeping her afloat. "This is a huge kudos to my customers. They would come in, and buy a stack of pizzas and several bottles of wine and just keep me going," she said.
When she reopened the Solera storefront on May 20, 2021, Klainert said that despite her apprehension, her customers reassured and supported her. "It was like a reunion everyday," she said. "This is my family, so it was good to have my family back."
In fact, Klainert has printed individual pictures of her customers onto her business cards. On the back of the one currently in my wallet is a picture of a tall man holding a comparatively small accordion, a musical instrument that Klainert has grown to love over the years.
"I've done a lot of crazy stuff," Klainert said, and while reflecting on her various personal and professional experiences, she advised, "Bloom where you're planted."