"Big things coming," new SGA cabinet takes office
The 2022-23 Student Government Association (SGA) cabinet plans to increase communication between students, themselves and administration, as well as undertake a full rewrite of their Constitution.
Loyal Terry `23, Student Government Association President, said they hope to mend and strengthen the relationship between the student body, SGA and the administration.
"If the students trust us as individuals, [then] trust us as a collective," said Terry.
Terry is joined in the cabinet by Vice President of Student Affairs Diogo Tandeta Tartarotti `24, Vice President of Academic Affairs Jivyaa Vaidya `23, Treasurer Sarah Toay `23, and All-Campus Events Chair Natalia Ramirez `24.5. These five are currently the only students running all of SGA.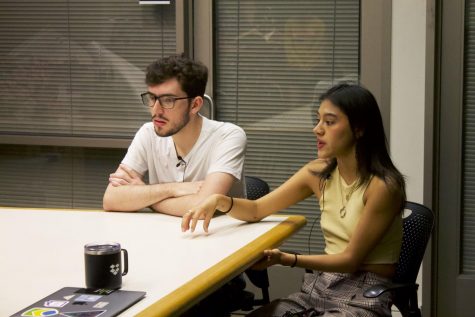 Due to a combination of new union negotiations and obstacles discovered in previous years, the group is currently reimagining the hiring process for all other positions, including senate elections.
Many of these changes to the hiring processes are coming in the form of a full SGA constitutional rewrite, an opportunity that will also allow the cabinet to reexamine SGA's role at Grinnell College and their approach moving forward.
"We got here with a non- working SGA. We got here […] and we are trying our best to make sure that in the next 20 years we'll have something good, something that is working," said Tandeta Tartotti.
While these changes may lead to delayed hiring,Tartottisaidhehopes the wait is worth the longevity of the structural change. He said he plans to have some version of the senate in place by the end of the semester.
"We want the student body to have a little bit of patience on how we are starting to do things," Ramirez said regarding the Constitutional rewriting process, "because we want to do them better and efficiently."
Toay said she plans to ensure that organizations will still be able to access funding despite the lack of a senate. She met with the treasurers of all student organizations on Saturday, Sept. 3, to instruct them on creating an annual budget, which ensures that the organizations can access their funding.
"I don't want there to be a block to funds," said Toay, "and so it's going to be this weird hybrid year, transition year."
Toay said she, in particular, didnot feel entirely prepared for her position. While SGA Treasurers are typically trained as Assistant Treasurer for a year before assuming the role, Toay was elected with no prior experience.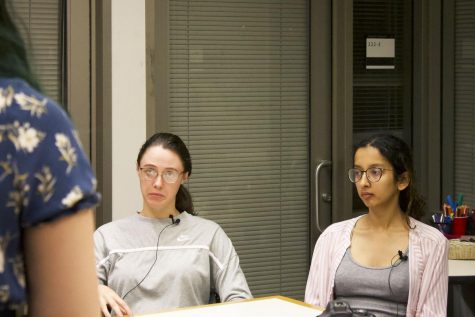 Toay said she is working to make sure all future Treasurers are better prepared by organizing budget documents and categorizing records. She said she wants to make the position more efficient by taking the job, "away from the nitty gritty."
This administration is also the first to enter the year with an expanded union, and the cabinet said they look forward to a strong relationship between SGA and UGSDW. Terry said he sees unionization as an opportunity to ensure equity in the workplace and believes that discussions regarding the union's place within the College are important to this transition.
"Self gov is not dead," said Terry, "but our understanding of self gov will change with the way that things happen with the union and the College more broadly."
Terry also spoke about the unique ways SGA is poised to help bring student concerns to the administration's awareness. Terry sits on Senior Leadership, a group of college administrators including President Anne Harris, Dean Beronda Montgomery and Vice President Myrna Hernandez among others. They discuss the broader concerns of Grinnell, allowing a student voice to be heard directly. He is the first SGA president to do so.
Terry has already launched one new initiative this year, offering to meet with off-campus houses that host parties in exchange for food and drink sponsored by SGA. This also helps to foster a relationship with the Grinnell Police Department. He sees this as a means of creating safer partying environments.
"Off-campus parties have been seeing a sad but true increase in police activity," he said, "there we saw an opportunity to have SGA funds and collaboration go towards something that students needed."
Vaidya has previously been a member of the economics Student Education Policy Committee (SEPC) and said she looks forward to her work with the Council on Curriculum, a group that meets bi-weekly with all SEPCs to discuss various academic affairs.
"I saw from the SEPCs and their members how committed they were to creating that community for them- selves and for their students," said Vaidya, "I really want to use that this year."
And from the response they have received so far, Vaidya said the student body is more than ready to give their input. Last year's academic experience survey, after the election of the cabinet, garnered 1,200 responses, some of which included extensive paragraphs of text.
SGA cabinet hosted an open round table during New Student Orientation to field questions and ideas from first years.
"I want to use things like this huge mass of data we have," said Vaidya, "A lot of the conversations I've
been having the past few weeks are meetings with academic resources on campus … to brainstorm project ideas for academic wellness specifically, and they are all so excited about it."
Ramirez said she is full of excitement for the year of events to come. Without wanting to give too much away, she said that she wants students to get ready for a festival that is already in the planning and the first Harris event on Sep. 16. She also said that she hopes to support events run by student organizations and wants to hear from any group eager to host a Harris or Gardener.
"There's big big big things coming," she said.
Terry said he believes the students elected, "who they wanted to see": the most diverse student government elected since he came to Grinnell.
"
There's big big big things coming."
— Natalia Ramirez Jimenez `24
"We have three students who are international students. We have athletes. We have a predominantly woman cabinet and people from all across the spectrum of ideology and experience," said Terry, "And that's because the students saw that, that's not something that we [SGA] can create."