Hallela Hinton-Williams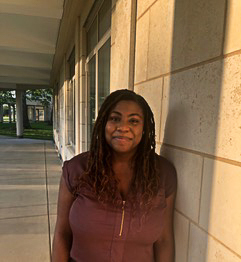 Hallela Hinton-Williams '21's first experience at Grinnell was one shared by many first-year students: getting lost in Noyce. Before even enrolling at the College, during an admissions visit she recalls, "I was lost in Noyce and trying to find my way to the JRC. I just asked this random student who was walking in the other direction, 'How do you get to the JRC?' And they were like, 'Follow me, I'll come show you how to get there.'"
Hinton-Williams has done much more walking around campus over the last four years, though little of that time has been spent in Noyce – in fact, the Spanish and religious studies majors have allowed her to completely avoid the terrifyingly maze-like basement of the science center for the last four years.
Instead of wandering the shadowy hallways, physics labs and biology storage, she's kept busy serving as a class ambassador for two and a half years and working for the CLS and Phonathon.
"My first semester at Grinnell, I felt really kind of lost," she said. "I saw the post for class ambassador and decided to apply because it's basically a role in which you develop events to build class affinity, to feel like you belong more at Grinnell. I thought that might be a good opportunity to feel like I belong and also to develop those feelings for others."
In addition to these jobs on campus, Hinton-Williams is also a member of the religious studies Student Educational Policy Committee (SEPC). It's in the religious studies department that she has taken some of her most interesting courses, especially REL-240, "Religion is Everywhere."
"My final paper was about rap and religion, and I did a case study analysis of three popular rap songs." The songs in question were "SAD!" by XXXTentacion, "Tunnel Vision" by Kodak Black and a song whose title hasn't aged well into pandemic times – "Mask Off" by Future.
"I can't listen to them ever again!" she said.
Hinton-Williams spent those late nights working on papers in several different locations across campus, living in James Hall her first year, Smith during her second and (most of) her third year and now in Lazier.
"If I was part of regular room draw this year, I would have picked North, to live in Smith again, because I think the location is better," she said. "I don't think I'm a South person, I just don't think I could do it. … I would describe [the South campus culture] as very artistic, everyone is very social justice-oriented, very outgoing, very Grinnell. The word I sometimes use is crunchy, but I don't think it goes that far for everybody."
Many of the campus traditions which characterize Grinnell are now nearly over for fourth-year students, and the prospect of a future outside the College is approaching quickly. For Hinton-Williams, who has so far lived mostly in small- to mid-size towns like Grinnell, St. Cloud, Minn. and Milford Penn., that means a big change.
She will be moving to Philadelphia to work at the nonprofit Center for Black Educator Development, which seeks to create career pathways for more Black teachers in PreK-12 schools.
Now, as her time at Grinnell comes to a close, Hinton-Williams can reflect on what the past four years have meant for her, from small things, like learning to knit (a "four-year ongoing project"), to the more long-term.
"My friends from [Grinnell] are some of my closest friends. During the pandemic, like once I got back on campus in March, it was so weird thinking that we spent all this time apart. There are just small things that we always talk about from first year that we sort of repeat this year, so having that closure has been really fun," she said. "This week, … me and my friend are developing a scavenger hunt that will end in a surprise for them with a cake and some stuff to do, so that will be a lot of fun."
And so even after commencement on May 28, Hinton-Williams won't be forgetting her Grinnell experience any time soon.
"Grinnell has been a great experience for me, and I'm glad I chose to come here. I'm glad I chose to come here and glad I got to experience living in Iowa for four years and meeting all the people who I've met living in Iowa for four years."