Democrats make small gains, but Republicans maintain control of Legislature, governor's mansion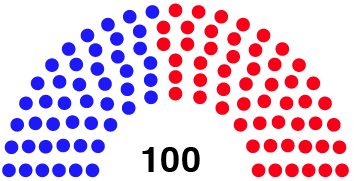 Midterm elections on Tues Nov. 6 saw a positive but overall mixed result for Democrats both nationally and in Iowa. The Party won the House of Representatives handily, gaining at least 30 seats from Republicans in a wide variety of districts and boosting them to 225 seats. 218 are necessary for a majority in the House.
According to The New York Times on Thursday, Nov. 8, at least 13 seats remain too close to call.
Democrats also captured seven governors' seats from Republicans, including midwestern races in Wisconsin, Illinois and Michigan.
Senate Democrats were less fortunate. With 97 of 100 seats declared as of Thursday evening, Republicans won 51 seats, compared to 44 Democrats and two independents who caucus with the latter. Three seats remain in dispute.
The midterms brought many historic firsts as many candidates belonging to marginalized groups won contested races. The first Native American and Muslim women were elected to Congress, as were multiple LGBT candidates to statewide and national positions.
In Iowa, a similar mixed result emerged by the end of the evening. Democrats captured two House seats from Republicans, as Abby Finkenauer defeated Rod Blum in IA-1 and Cindy Axne overcame David Young in IA-3. Finkenauer and Axne are the first women elected to represent Iowa in the House of Representatives in the state's history. Finkenauer was endorsed by the Grinnell Union of Student Dining Workers for her pro-labor stance.
Democrat David Loebsack retained IA-2, which he has held since 2007.
Republican Steve King held off a potent challenge from Democratic newcomer and former professional baseball player J.D. Scholten in IA-4. King, who has faced considerable criticism for racist and Islamophobic comments and blatant affiliation with white nationalist organizations, saw his smallest electoral victory in recent years, winning only 50.4 percent of the vote. This percentage was a clear decrease from his 2016 victory with 61.2 percent of the vote.
Republicans also held on to Iowa politics in the Capitol, retaining control of the Iowa House and Senate, allowing them to set the policymaking agenda. According to The Des Moines Register, this will allow them to continue with their "pro-business, free-market" agenda of the past several years.
Iowa Governor Kim Reynolds also ended the night as the first woman elected governor in Iowa history. Reynolds has served as governor since her predecessor Terry Branstad was named Ambassador to the People's Republic of China in 2017. Reynolds defeated Democratic businessman Fred Hubbell with 50.4 percent of the vote.
Republicans also won the election for Secretary of Agriculture and, importantly, for Secretary of State, as Paul Pate — who was the driving force behind voter ID laws passed in Iowa last year — received 53% of the vote to Democrat Deidre DeJear's 45 percent. DeJear would have been the first African American woman elected to a statewide office had she won.
And in an unusally high-profile election, former Assistant Attorney General Rob Sand unseated Republican incumbent Mary Mosiman to become the new State Auditor. Democrats Tom Miller and Michael Fitzgerald won their tenth terms as Attorney General and State Treasurer respectively.