Patricia Finkelman '80 is currently the Chair of the Board of Trustees at Grinnell College. She was an economics major who came to Grinnell from Pittsburgh and has served on numerous nonprofit boards throughout her career. When she returned to campus in early February for the board's quarterly meeting, she sat down with The S&B's Philip Kiely and shared her thoughts about how the College has changed since her time as a student.
The S&B: How did you choose Grinnell?
Patricia Finkelman: I actually had my heart set on going to Middlebury, but I was waitlisted by Middlebury. The new president at Grinnell, at the time, had just come from Middlebury; he was the provost there, and he sent a letter to all accepted students quoting Robert Frost. I took that as a sign that I was meant to come to Grinnell.
The S&B: How did you become the Chair of the Board of Trustees?
PF: That's a really long story. I've been an active volunteer with the college since I graduated. I started doing admissions interviews and going to college fairs right away, I did that for years and years. I joined the alumni council in 1990 and by 1997, I was president of the alumni council. The president of the alumni council is an ex-officio member of the board. So for a year I was an ex-officio trustee, and it happened to be the year that we had a change in presidents, and there was a search going on, and I was on the search committee, so I got to know the trustees really well, better than a lot of alumni council presidents are able to. At the end of the year I was elected to the board.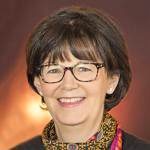 The S&B: Aside from the board of trustees, what else do you do?
PF: My husband and I are semi-retired, we're empty nesters … I serve on several other boards, I live outside of Columbus, Ohio and I serve on several other boards in the Columbus area. That has really been a career for me, I've been involved in nonprofit governance, nonprofit fundraising pretty much my whole career, I'm pretty much a very busy volunteer.
The S&B: How did your Grinnell education prepare you for that?
PF: My Grinnell education taught me a lot of things. It taught me how to think critically about issues, and I take that so for granted that I'm always surprised when people don't or can't think critically and can't look at multiple sides of an issue because I think that at Grinnell I really learned how to do that, and I think that it's a gift. Also, at Grinnell, even though we weren't as diverse then as we are now, I learned to live with and work with people who came from different backgrounds than mine, who had different life experiences, and that serves me very well in the work that I do.
The S&B: What do you think has been the biggest change in Grinnell since you graduated?
PF: That's a really interesting question because we talk so much about what's the same. I think the diversity of the student body, absolutely, both domestic diversity and international diversity.
The S&B: In your opinion, what is the role of the Board of Trustees? What is your most important mission for the college?
PF: Our role is to make sure that the college is living up to its mission. At the end of the day we are responsible. Some people would say that our role is very simple: we hire the President and we manage the endowment. That's very simplistic, we do a lot more than that, but really the President runs the college, we make sure that we have the best person in that position, and then we have fiduciary responsibility for the college's resources. That's a pretty big responsibility, one we take very seriously. Our board is … probably 80 percent alums, maybe 90 percent, so we start out in board service with a passion for the institution.
The S&B: How can the board help shape Grinnell's story?
PF: I think that the board, along with the administration and the faculty, are so intimately knowledgeable about Grinnell's strengths that we can help craft the message. I think that we need the outside experts to help us finalize it, but we know the institution, we know its strengths, and we're passionate about this place.
The S&B: What are some of the day-to-day things that you do?
PF: Leadership … is twofold. One is keeping things moving, and that requires a lot of communication, whether it is communication between the administration and the board members, communication within the board leadership, so there's a lot of communication. I spend a lot of time on the phone and a lot of time emailing. There's a responsibility to make sure that the relationship between the board and the administration is strong and collaborative. The President and I, at the end of the day, it's our responsibility to make sure that it's working well.
The S&B: What do you see as some of the biggest challenges facing the college right now?
PF: I think that they are the same challenges that are facing a lot of institutions of higher education, college is increasingly expensive … we've been really fortunate at Grinnell that we've had the resources to be very generous with financial aid but costs are just going to continue to go up, so that's a challenge.
The S&B: What are the biggest opportunities for growth here at Grinnell?
PF: There are a couple of areas that I would focus on. One is my personal passion, which is around Careers, Life and Service. I think Grinnell has room not just to grow but really to lead in the field, to demonstrate … to students and families, that not only are we giving students a world-class education but we're really helping them think about how to thrive in their life after Grinnell … and giving them the tools to get there.
I also think Global Grinnell … in some respects we've hidden our light under a bushel on that one. We are incredibly diverse, our students study abroad in great numbers, we have a great international curriculum, but we haven't put all of that together and said to the rest of the world 'look what you can get here in the Iowa prairie.' You take global, you take CLS and you take our individually advised curriculum … you might get one of those things somewhere else but I think that the combination of all three is pretty unique and pretty remarkable."