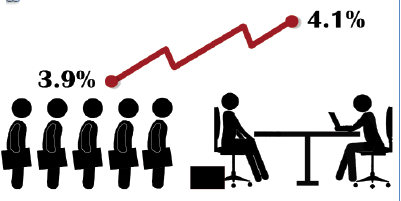 By Jeman Park
parkjema@grinnell.edu
Unemployment rates are a critical metric for college students given their relevance for future job prospects. Poweshiek County has consistently outperformed United States averages, posting a consistent sub 4 percent rate of unemployment for the past year, until this August, when the county posted a 0.2 percent increase.
Laura Mannat, Head of Marketing and Economic Development for Poweshiek County, is not worried.
"We are very comfortable with where the unemployment rate is at," Mannat said. "Businesses here are expanding, adding additional employees, adding additional products or services."
The majority of the additional growth for the county has come from already existing businesses. Other Iowa counties may be more concerned about unemployment increases due to their dependency on a sole industry. However, due to its wide range of industries, including manufacturing, construction and education, Poweshiek County is unlike most rural Iowa counties.
Employment fluctuation is common within the county due to seasonal industries. Currently, the median earning in Poweshiek County, $39,959, remains slightly below Iowa and nationwide averages of $41,652 and $44,178, respectively. The increased necessity of higher qualifications may lead to higher median earnings in Poweshiek County.
Overall, Iowa experienced a 0.1 percent increase in unemployment, similar to Poweshiek County. According to Mannat, the agriculture industry, one of the most prominent industries in Iowa, has recently experienced slow growth. However, due to Poweshiek County's economic diversity, she remains unconcerned.
"Seasonal unemployment in the agriculture industry and construction happens pretty often. They're laid off in the winter, but rehired in the spring, so we're not too worried," Mannat said.
Mannat expressed minor challenges in filling certain open positions, where higher qualifications are necessary.
"The state is focusing on finding the people with the right skills for the positions that are open. They are working with community colleges and technical colleges to get them skills necessary for the jobs," Mannat said.
According to the Iowa Workforce Development group, 7.9 percent of individuals are underemployed in the Poweshiek County area.