The Poweshiek Animal League Shelter (PALS) published a press release last Monday asking the community for volunteering and monetary support. The press release wrote that "supplies are depleted, maintenance is needed" and "there is only enough money to keep the shelter open for another month or two."
According to Dianna Townsend, the PALS board president, the press release was not meant to scare the community, but rather remind them that the shelter receives no funding from the city or state and relies entirely on volunteers and donations.
"We rely on volunteers to clean kennels, feed and water the animals, walk them and socialize with them," Townsend said. "A point of pride for us is that, to my knowledge, we were the only volunteer-run shelter in the nation until 2012 [when two paid, part-time positions were formed]."
PALS provides care for homeless or unwanted animals and has helped more than 800 animals find homes since its opening in 2007, according to their website. Before this time, stray animals picked up by city police had only seven days to stay in local veterinary clinics before being euthanized.
Grinnell students volunteering through the student group, Pals of PALS, have historically been essential in helping to socialize with animals and clean the shelter. In recent years, however, volunteering rates have dropped.   
"I have volunteered with PALS for three years," Sinead Brady '15 said. "Volunteer commitment has been dropping on the student side. There are fewer and fewer students volunteering. When people start to volunteer, they realize it's more than just playing with animals."
Maggie Mamantov '16 started volunteering at PALS a year and a half ago and estimates that, out of as many as 20 students who volunteer through Pals of PALS, only six regularly volunteer more than once a week. Pals of PALS provides rides three times a week to the shelter, which is located off of I-80.
"Transportation is one of our biggest issues right now," Mamantov said. "We always need volunteers, but especially those who can provide transportation. There are only three of us with cars."
After volunteering with PALS over the summer, Mamantov became a board member.
"I asked if I could be a student representative because they needed board members," Mamantov said. "I've learned a ton about management from the experience. Like what to do if a water pipe breaks, or what to do with an animal that needs special care. All the time, we find a good solution for the animals. We network with shelters across the state to take in animals we can't find homes for. We recently had two hounds that could jump ten feet in the air over fences, so we networked to find them a permanent home."
Part of why PALS is low on funds this spring is due to the rise in kitten and puppy litters in the springtime.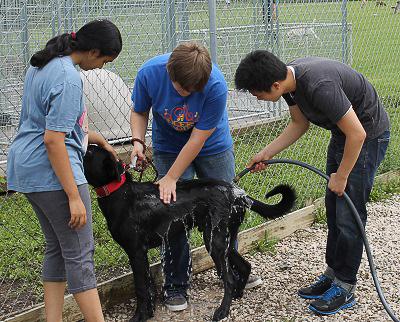 Additionally, the shelter does not give animals away for adoption until they are spayed or neutered, have received all their shots and have a microchip, there are many costs now and little money is available.
"A big donation time is around Christmas, but by April and May, this money is starting to run out because we are spending it on flea and tick prevention," Townsend said. "Two years ago, we purchased [flea and tick medicine] for 22 cats and six dogs for six months and it was $2,500."
Because of these expenses, PALS is especially interested in volunteers with experience in writing grant applications. In 2008, when PALS needed money to add an addition for more dog kennels, they secured a grant because a PALS student volunteer was a member of the family giving the grant. This experience speaks to the close relationship that has formed between the College community and the shelter.
"[Volunteering] is a benefit to both communities," Townsend said. "Some of the kids who volunteered with us have gone on to be veterinarians and we have written letters for them."
Volunteering at PALS has enriched students' lives in other ways.
"Volunteering at PALS is really rewarding," Brady said. "I'm going to go into animal rescue when I graduate, and I wouldn't have known that if it wasn't for PALS."
For Mamantov, volunteering at PALS has been a joy and she recommends it to all students.
"I can promise that you will fall in love with the great animals out there," Mamantov said. "It's one of my favorite places in Grinnell."
Students interested in volunteering at PALS can email [pals@grinnell.edu] or visit PALS' website, www.PALSpets.us, for information about volunteering and the items they are seeking from donations.