The National Week of Action for "It's On Us," a national campaign initiated by the White House to prevent sexual assault, took place on Nov. 17 to 21 across the country and on Grinnell's campus. The week, headed by SGA, included an active bystander training session, a video that spread through social media and a letter to the editor in The S&B, but what gained the most attention was the "Title IX 'Rewind,'" a panel discussion in Lyle's Pub on Thursday, Nov. 20.  At the event, several students protested by covering their mouths with red tape, wearing black and holding signs conveying grievances concerning sexual assault policy.
The protestors criticized the "It's On Us" campaign for being a federal campaign that relies too heavily on bystander education. To Ian Byrd '16, one of the demonstrators, both SGA and the administration are focusing their preventive efforts in the wrong directions.
"Neither SGA nor the administration are acknowledging that sexism plays a major role in sexual assault," Byrd wrote in an email to The S&B.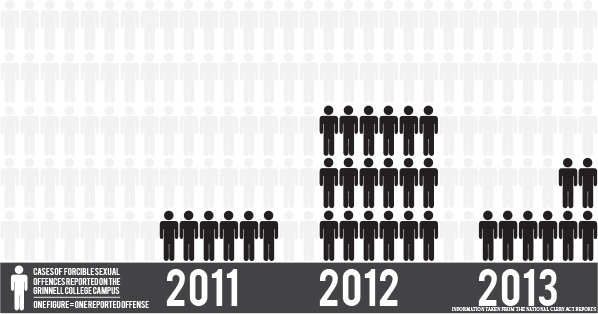 According to SGA President Opeyemi Awe '15, the goal of the Week of Action was to facilitate constructive conversation about sexual respect at Grinnell. "SGA sought to use this as an opportunity to remind students about our collective responsibility in ending sexual assault—whether it be from becoming a trained active bystander, to becoming more aware of the impact of our words, and actions in creating a safe community," she wrote in an email to The S&B.
The protestors were unhappy with the way that sexual assault on campus has been framed and felt that they could not properly express their complaints in a more restrained manner.
"There was no way we could have brought this up through the form of the Q&A session; the panel would have either sidestepped the question or provided an unsatisfactory answer," Byrd wrote.
Deanna Shorb, Dean of Religious Life and a panelists, found the protest to be effective. "In some ways, the presentation was powerful and almost hauntingly so. The questions on their signs and their emphatic statements … were really direct but powerful," she said.
"When you looked around at the people and saw how upset they were, it made me really sad," said Title IX Coordinator Angela Voos.
Andrea Conner, Dean of Students and one of the panelists, said she is a supporter of student activism and was not surprised by the students' arrival to the discussion.
"The protest was welcome," Conner said. "Because dissenting voices are important to be
heard, or seen in this case."
But other students were more skeptical about the administration's statements.
"Sometimes I'll hear something that sounds reasonable from one [administrator] but is obviously super politically hidden and [I] can't totally grasp what they're saying because they're using terms that can go either way," said Ebony Chuukwu '16, one of the protestors.
One of the grievances the demonstrators brought forward concerned the language that victim-survivors and others use. Some students felt that they had been silenced when informed that they could not use certain words, such as "rape," to describe their experiences with sexual assault. Voos and Conner said they were surprised to hear this.
"There's enough confusion that we really need to add some language in the policy that makes it clear that … we encourage [people] to use their language, whatever language that best describes their experience," Voos said.
The "Title IX 'Rewind'" was an emotional event, but panelists were pleased to hear from concerned students and felt that it will help lead to productive discourse.
"As tough as that evening was … the original goal of the panel was to share information and raise consciousness about procedures and policies and how things work and I think in many ways that we achieved that," Conner said.
Awe praised the protesters for asking difficult questions and acknowledged that there is work to be done to overcome the disconnect, but cautioned against jumping to conclusions about what each group's goals are.
"I think it's important that everyone momentarily pause and check our assumptions about the other 'side's' motives," she wrote. "Everyone wants to make sure that students are safe. No one wants any manner of sexual assault to happen on this campus."
Conner's largest concern is for students who may be deterred from coming forward to support groups because of the protest.
"My greatest fear is that if student activism, which I absolutely support … somehow hindered other people from coming forward because they were worried how it would go," Conner said. Perhaps the most obvious outcome of the panel and subsequent protest is the awareness that many people on campus are very unhappy with the way sexual assault is currently handled.
"I think that it was a reminder that we still have a fair amount of work to do," Shorb said.
Moving forward, administrators hope to work  closer with students to improve policy. Voos contacted the protesters for their input and wants to further include students.
"While we are not entirely optimistic that [our demands] will be met, we are pleased that our actions have led the administration to change the terms of the discussion and tacitly acknowledge their mistakes," Byrd wrote.