Josh Paul helped send U.S. arms overseas for more than a decade. He then resigned, prompted by what he describes as the "destructive, unjust" transfer of lethal weapons to Israel.
Paul spoke in front of 100 people at Grinnell College on Tuesday, Nov. 7, in his first public event since resigning, revealing the factors that compelled him to step down and his insights into arms transfers, foreign policy and the Israel-Hamas war.
For 11 years, Paul served in the Bureau of Political-Military Affairs in the U.S. Department of State, a position which gave him a significant voice in the Biden administration's arms transfer deals. His resignation letter, posted 10 days after Hamas launched its attack on Israel, has garnered extensive media attention, prompting interviews with Paul on CNN, BBC and PBS.
"The U.S. has a lot of leverage here that it's not using," Paul said. "We get ourselves off in the wrong direction when we start to say any criticism of Israel is anti-Israeli. There is absolutely space for a constructive debate and dialogue, and we owe it to any partner of ours to provide not just arms, but questions and guidance."
The lack of debate within the State Dept. about aid to Israel is ultimately what Paul said led him to resign. Paul indicated that even though Washington's support for Israel appears near unanimous from the outside, there is much more internal dissent than is visible to the public, particularly among civil servants.
Paul argued that the differing views on the role of civil servants in government exacerbate the lack of meaningful debate.
"Some people say your job in government is essentially to be a cog in the machine, focusing on making things run as efficiently as possible," Paul said, articulating why engagement between civil servants and elected and appointed officials is critical. "The other perspective, and the one I ascribe to, is that no, actually, people go into government to make a difference. We don't all agree on what that constitutes, but we all bring our own experiences, our own insights, our own sort of beliefs and values and then we try to try to make it better."
"
The other perspective, and the one I ascribe to, is that no, actually, people go into government to make a difference. We don't all agree on what that constitutes, but we all bring our own experiences, our own insights, our own sort of beliefs and values and then we try to try to make it better.
— Josh Paul
Speaking directly about the Israel-Hamas war, Paul said that he is "deeply skeptical" about the viability of a two-state solution because of the Israeli settlements that cover much of Gaza and the West Bank. Despite being doubtful about a ceasefire being called in the coming weeks, Paul said that he thinks lasting peace is possible given the right external pressures.
"There has to be pressure to equalize the discussion and to put the two sides on equal footing," Paul said. "It can't be negotiated as it has been for the last 20 years with Israel being the one who decides what the Palestinians get." 
That pressure will come in part from Americans speaking up against the U.S. "complicity" in the "war crimes" being committed in Gaza, which only happens if people are free to share their opinions without intimidation, Paul said.
"It's outrageous. This absurd allegation that protesting for a ceasefire, protesting against occupation is somehow tantamount to terrorism," Paul said, acknowledging how some protestors have been targeted for their actions. "Of course, it's not. It is free and fair debate in support of what is ultimately a humanitarian agenda. So this effort to shut it down is deeply, deeply disappointing."
When asked about the University Democrats at Iowa controversially signing a pro-Palestine statement including the phrase, "From the river to the sea, Palestine will be free," and the subsequent call for resignation by the Iowa Democratic Party, Paul said, "I understand that there's a lot of complexity depending on what the context is in which they're saying it, but we never raise the same concerns when the Israelis say exactly the same thing."
"If you look at the founding charter of Benjamin Netanyahu's Likud party, it says that its goal is a sovereign state of Israel from the sea to the river Jordan," Paul added. 
Beyond Israel, Paul drew on his experience engaging in arms transfers to Saudi Arabia and Ukraine, presenting a number of conclusions he has formulated about the nature of weapons sales.
For one, Paul said that weapons sales are "not going anywhere" and will continue to be used as a foreign policy tool, citing that the U.S. defense industry makes as much as $180 billion per year in arms transfers. Arms transfers have proven effective at giving the U.S. leverage to promote human rights and democracy in some specific cases, Paul said, even though the U.S. has been unsuccessful in other cases, as in Saudi Arabia. 
Paul pointed to Ukraine as an example of relative success, arguing that the rapid shift of Ukraine's army from "inept" a decade ago to "really impressive" in the war against Russia is a result of the arms and training the U.S. has provided. He also said that this aid has given the U.S. the leverage to hold Ukraine accountable for its actions. 
Wayne Moyer, professor of political science, said that the U.S. must consider the potential repercussions of weapons transfers of this kind. "Our political competition in an increasingly multipolar world means arms sales are going to come back just like they did during the Cold War," Moyer said. "Maybe the U.S. can't influence everybody in terms of human rights, but we can at least put the subject on the agenda."
Paul said that if the U.S. were to reduce weapons transfers, as many outsiders often suggest, Russia or China would likely fill the vacuum left behind, reaping the profits of arms sales while ignoring the human rights component to a greater degree than the U.S. This dilemma of choosing between the lesser of two "morally questionable" scenarios leads to the underlying State Dept. principle that the goal is not to "do no harm" but rather to "do the least amount of harm possible," said Paul.
"I think it's worth noting that a large part of the reason we have so many weapons is the military industrial complex and that weapons industry and independent contractors have so much influence over government policy and spending," Chris Stuckart `24 said, providing his reaction to Paul's claim. "But I think there's also the aspect that if the U.S. controls who has weapons, that's probably better than our adversaries being able to control that."
Concluding his talk, Paul said that, to its credit, the Biden administration instituted a policy that theoretically prevents the U.S. from transferring weapons if they will "significantly aggravate the risk of civilian harm." The problem, Paul said, is that the policy is intentionally ambiguous and has not been properly followed.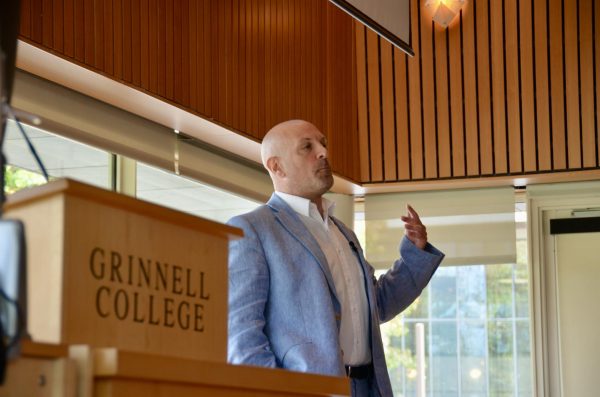 "In terms of what the U.S. could be doing right now — number one, follow its own damn rules," Paul said, responding to a student's question regarding the adherence to Biden's policy. 
"The problem with Israel," Moyer said, "Is that it has been getting such huge arms shipments from day one. And the issue there is how to cut back."
In an interview with the S&B, Paul also responded to the demands for Grinnell College administrators brought forward by Grinnell Students for Justice in Palestine, stating that open dialogue is critical for the College to foster. 
"In terms of what decisions the university [Grinnell College] itself takes, I think that is up to the university," Paul said. "Hopefully that would be a decision that is taken in consultation with the student body and follows the wishes of the student body."
Paul's visit to Grinnell was organized by Barry Driscoll, associate professor of political science, who said that he hopes to bring Paul back in the spring for a three-week or six-week short course, or as a fellow-in-residence.