Having served as a refuge for studying students seeking quiet, approaching deadlines, andneeding printer access since 1959, Burling Library has since remained relatively static despite undergoing major renovations in the early 1980s, with library staff doing their best to repurpose the limited space to meet students' needs in increasingly creative ways.
Initially designed by Walter A. Netsch Jr., Burling Library is the third iteration of a designated library building at Grinnell. Prior to the first "library" in Goodnow Hall, the College's books were dispersed among their relevant academic buildings.
After Goodnow Hall was full to bursting, the library was relocated to Carnegie Hall before its current home in Burling, which was constructed when the College's book collection expanded beyond Carnegie's modest capacity.
When Burling itself began to overflow with books, Ben Weese led significant renovations in 1982-1983 to expand the library. During these renovations, Burling saw the addition of its third and fourth floors, contributing the striped upper layer to the exterior of the building and the library's quietest spaces.
Allison Haack, library special collections and archives assistant, said that certain recognizable aesthetic features of the library, such as the shade of its green furniture, are remnants of the changes made during the 80s.
Her colleague, Christopher Jones, special collections librarian and archivist of the College, noted that the familiar pale wood of the building also recalls that time. As a previous library director, Christopher McKee, "wouldn't allow any woodwork in the building that didn't match this specific maple", according to Jones.
Beyond the visual cohesion introduced during that period, Jones said that a notable change from the Burling of the past is that the College administration offices used to be located in the library's basement. "Which," Jones said, "is why it was targeted for the takeover."
The takeover to which Jones referred was the 1971 sit-in initiated by protestors from the Concerned Black Students — one of the most noteworthy and impactful events in the library's history. In response to unmet concerns and the assassination of Dr. Martin Luther King Jr., Black students chained themselves to the library doors.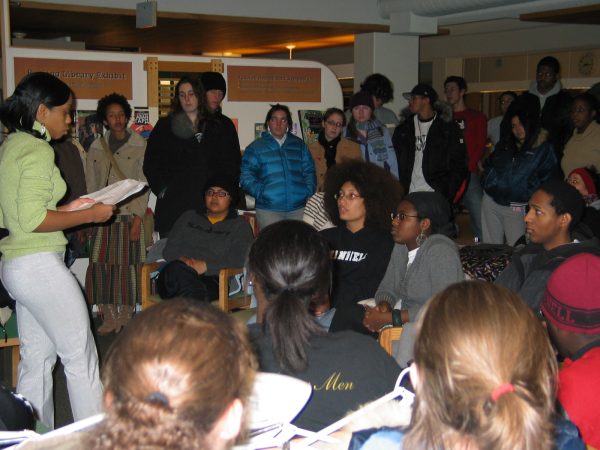 The takeover also impacted changes made to Burling during Weese's renovations. Haack said, "One of the asks of the Black Manifesto was that there would be more books about Black culture and history. Then when all the renovations happened in the 80s, that space upstairs on the second floor became the location for the Black Library."
No other renovations of that scale have taken place in Burling since 1983. However, Jones said, "We've done lots of little pockets of things." Specifically, Jones said that library staff is constantly trying to find new ways to respond to technological changes that open possibilities for the library.
Jane Mertens, a library cataloging assistant, is very familiar with these features of Burling Library. Mertens has lived in Grinnell since she was two years old, as her mother — Cecilia Knight, who now has senior faculty status — worked at Burling Library while she was growing up.
Both Jane Mertens and her sister, Ellsi Mertens, library access services assistant, now work at Burling themselves. Jane Mertens said, "I think my earliest memories of Burling are playing in the jungle gym. My sister and I used to play on those whenever we were waiting for mom to get off work in the summers."
However, Mertens' relationship to the building is not simple. She said, "I think that there's a tension because there's a lot of fond memories. But there's also just that feeling of places where you just want things to be improved and you watch them not get improved for years."
Haack, Jones and Mertens all discussed the limitations and challenges of the building, including plumbing, electricity, accessibility and size, which make increased renovations or expansion of Burling difficult to approach at this point. Jones said, "We've done pretty much all we can to make this building habitable. There isn't a lot more that we can do." Haack added, "I think we'd all be ready to move into a new building tomorrow."
Despite their frustrations with Burling's lack of functionality, Haack, Jones and Mertens all reasserted their belief in the importance of a robust physical library on campus in spite of increasing digitization, noting all the different and essential functions a library can serve for the Grinnell community.
(Contributed by Burling Library Archives)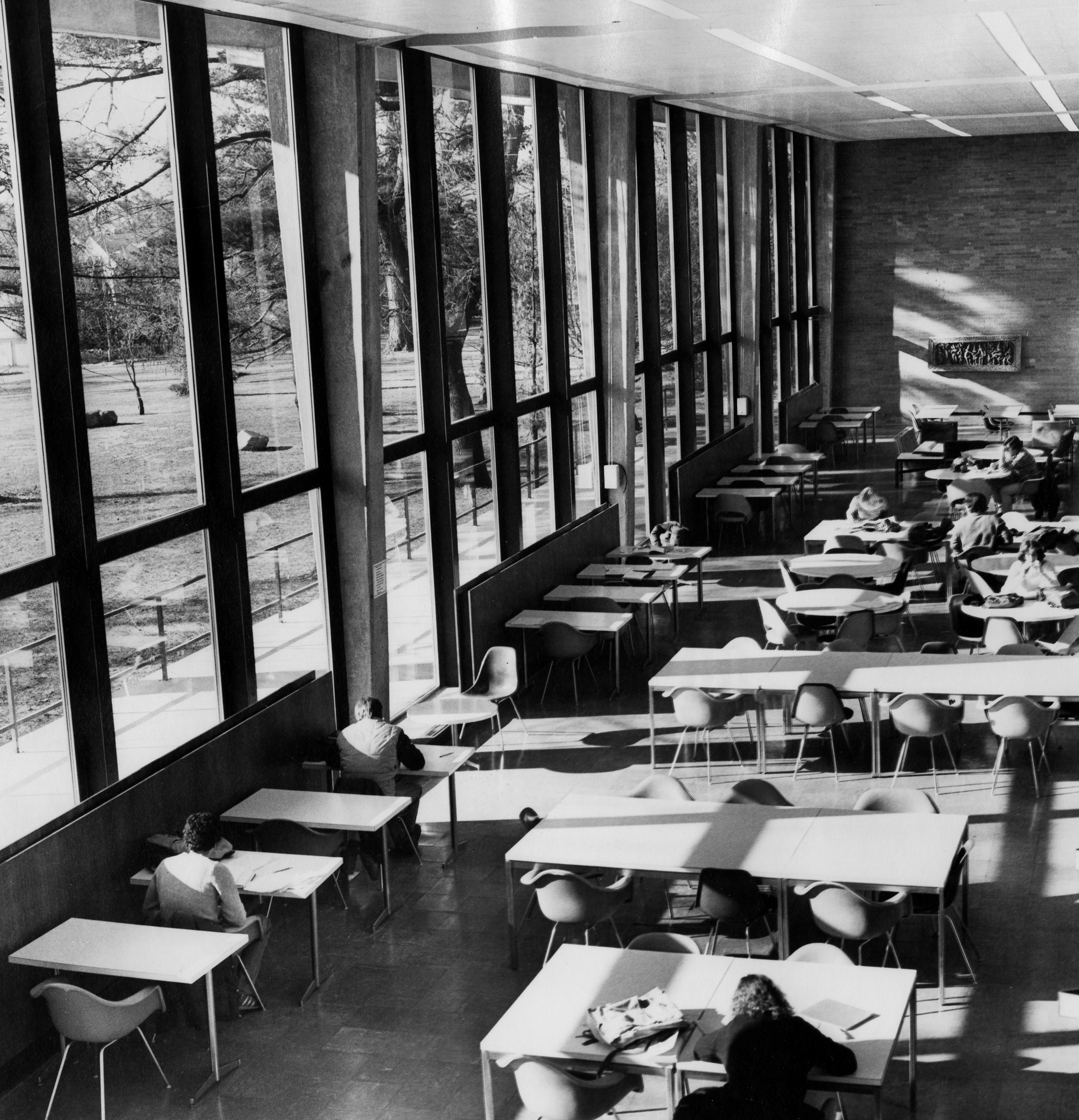 Mertens said, "We have a lot of sentimentality attached to buildings. But the truth is the College's mission isn't this building. And if this building isn't serving to push the mission forward anymore, we should move forward and find something new."