Tino Tazvitya

Throughout her time at Grinnell, Tino Tazvitya `23 has worn many hats, including International Pre-Orientation Program (IPOP) mentor, concert crew member, basketball team manager and Dining Hall worker. However, after returning to campus post-COVID shutdown, she took on a new, unexpected role — intramural archer.
"I had never shot an arrow, at all," said Tazvitya. However, during her time as an intramurals leader coaching non-competitive sports, her supervisor wanted her to explore coaching sports that adhered to COVID guidelines, and Tazvitya quickly learned how to use a bow and arrow.
That is the thing Tazvitya says she loves the most about Grinnell — the ability to explore new interests, both in her work and in her personal life. Despite being a computer science and mathematics double major, Tazvitya said that her favorite class was PHE 202: Coaching Methods, offered by the physical education department.
Originally from Zimbabwe, Tazvitya learned about her passion for computer science through teaching herself coding languages in high school. She said she imagined herself creating apps in the future, a passion she still wants to explore.
"Those apps would potentially help people," she said, "and do good in the world."
Tazvitya chose to come to Grinnell because of its high-quality computer science program as well as the school's smaller community. However, shortly after her arrival at Grinnell, COVID hit, causing most of the students to return to their homes. Tazvitya was one of the few to remain on Grinnell's campus throughout the pandemic.
During a moment of isolation from the rest of the world, Tazvitya formed connections with her fellow students staying on campus. At the time, she worked in the Dining Hall, and she said that the pandemic allowed her to form connections with her supervisors that otherwise would not exist.
"We really had no reason to be friends, right?" asked Tazvitya. "But we still talked. It was a really good, really nice relationship."
Other unexpected locations where Tazvitya has found connections include a certain set of tables on the south side of the Humanities and Social Studies Center atrium, which she likes to refer to as the "grind tables" due to the focused environment present there. Although she originally went to the tables to complete her work, Tazvitya ended up bonding with the people around her due to their shared devotion to the spot.
Academically, Tazvitya named Nicole Eikmeier, assistant professor of computer science, as one of her most influential professors, and who she had for her very first computer science class. "She gave me some tips on how to navigate the CS world as a woman," she said. "She was kind of an inspiration to me."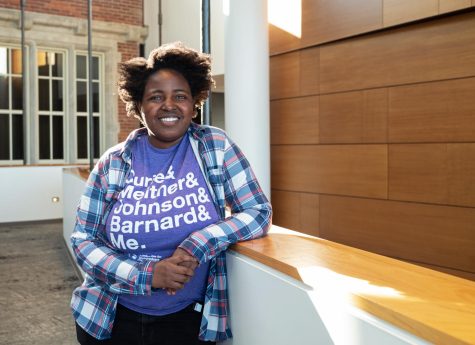 In addition to connecting with her professors, Tazvitya said she appreciated the connection she held with the international student community at Grinnell throughout her time on campus, particularly in her roles on the International Student Organization (ISO) cabinet and also as an IPOP mentor.
 In fact, she said that her favorite campus event of all time is the annual ISO Cultural Evening.
Tazvitya reminisced about the time Cultural Evening was held immediately after the College's first in-person sessions following the pandemic, remembering the significance it held to the international student body. At this past year's event, she served as one of the two emcees.
"This year, I was just like, 'What if I signed up to be an emcee?' And I didn't think it was going to happen, but it happened. [The event] really came together."
Next year, Tazvitya will be accepting a position as a software engineer for investment banking company Goldman Sachs, based out of its Salt Lake City, Utah office, an opportunity she said she's excited about. Still, Tazvitya said she'll remember college best for the people she met during her four years at Grinnell.
"I just love talking to people and meeting new people," said Tazvitya. "I'm grateful I was able to do that in every aspect of things."
Her advice to current Grinnell students is simple — if you are interested in an event, go to it, even if it does not seem relevant to academics. "You never know what you'll learn from it," she said. "Even if you don't think it will benefit you as much, it will help you out socially."