Students Speak: Tattoo Tours
Jules Covtiz `24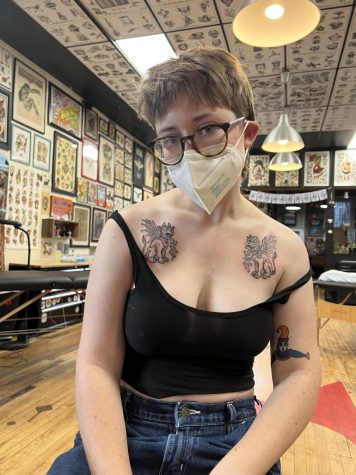 Jules Covitz `24 proudly rocks two gargoyles by the tattoo artist Molly Emmerich at Ritual Tattoo Gallery in Denver, Colorado, one resembling a dog and the other an eagle. Covitz said that the purpose of the gargoyles in architecture is to allow water to drain, similar to gutters. In addition to loving medieval designs and appreciating the intricate and detailed nature of gargoyles, Covitz has a background as a florist. The tattoos are accordingly designed to have flowers flowing out of their mouths.
"Some of my tattoos definitely were sort of spur-of-the-moment," Covitz said."While there are some regrets about them, I just want to remember this moment in my life when I had youth and ideas."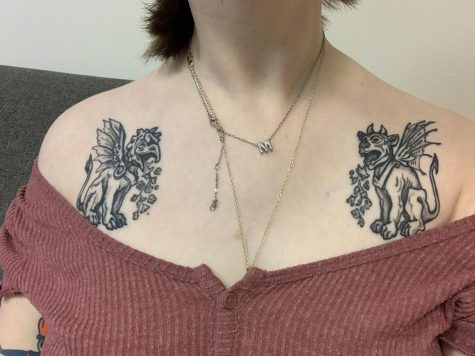 Covitz said that they see getting tattoos as a way to reclaim their body and control what people notice when they see them. They expressed that having control over the scars in their life is empowering, and they believe getting tattoos can be a way to fight against the prejudices surrounding them.
"My tattoos on my shoulder blade and my inner arm accentuate the areas that make me feel more masculine," Covitz said. "You're inevitably going to have scars in your life, but to have control over them and have a say in the matter is really nice."
Ruby Brent `25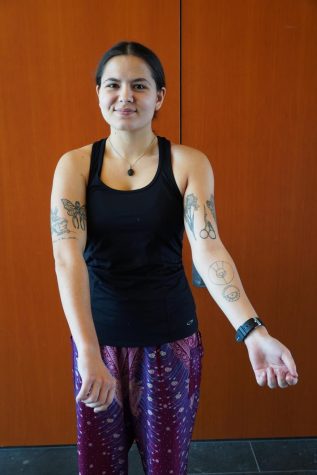 If anyone ever suggests you have to trade quality for quantity, they've never met Ruby Brent `25, owner of nearly a dozen individual tattoos. Brent's favorite is of an iris on her shoulder blade, a reference to the album cover of her favorite song, "Iris" by the Goo Goo Dolls.
"It's still my favorite song 100%, but I struggled a lot with my mental health in high school, and that song is just connected to so many different memories," Brent said.
Brent got that first tattoo in August of 2020, after she turned 18. The same Chicago-based artist did many of her tattoos which range in subject and meaning. Some relate to her beloved summer camp while others were more spontaneous and  simply looked cool, according to Brent.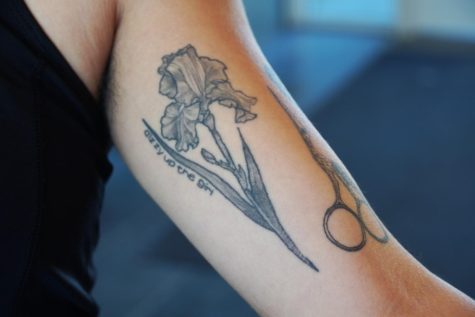 "I would say most of them have been spontaneous, where I don't really know what I want," Brent said. "Then, one day, it just hits me, and that's what I'm doing. It's just like a single moment where that's the tattoo that I want."
Brent sees her tattoos as a way of putting her own artwork on her body, and she cherishes the journey that each tattoo represents. She is currently working on her sticker sleeve and plans to tie them all together with a background once she has enough money.
Kade Dolphin `24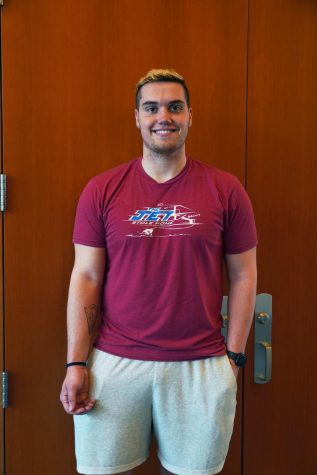 Kade Dolphin `24 has always been thoughtful about what tattoo he would get — when spring break of his sophomore year came around, he decided to take the leap with some friends. He returned to campus sporting a tattoo of a wave enclosed by a triangle shape.
"I was gonna go get a tattoo with some friends, and I had like a week to figure out what I want, what are my hobbies, what I like to do," Dolphin said. "I've been swimming since I was like three or four, and I wanted something with water."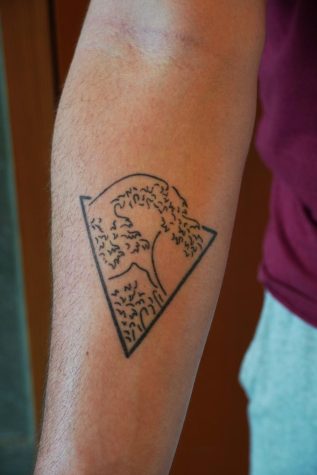 Dolphin's lifelong affinity for swimming played a role in his decision as he wanted his first tattoo to represent something meaningful to him. He found inspiration for the tattoo in an episode from the fourth season of a television show called "The Good Place," where life is compared to a wave that crashes and returns to the ocean.
When Dolphin's group of friends went to Champaign, Illinois, they found a tattoo artist who was able to ink everything up the following day. It was a spur-of-the-moment decision, but Dolphin said that he couldn't be happier with the outcome. He said that the tattoo serves as a reminder to live life like a wave, embracing the highs and lows and going with the flow.
"I liked that metaphor and liked that analogy just because it felt meaningful, and one way for me to live my life is to live as a wave." Dolphin shared.