Ode to the empty spaces of Grinnell College
Where do you spend your time on the Grinnell College campus? If you're a social sciences or humanities major, you are sure to have a lot of classes in the new Humanities and Social Studies Center (HSSC). If you are a Science, Technology, Engineering and Math (STEM) major, you likely spend much of your time navigating the maze of the many-times-renovated Noyce Science Center. And every student is of course familiar with the Joe Rosenfield `25 Center (JRC) — where else is someone supposed to get a bite to eat around here?
These three modern and centralized buildings dominate Grinnell College, and the triangle made between them undoubtedly creates the campus's midpoint. Bucksbaum Arts Center, Burling Library and the Bear Recreational Center are also crucial — they create the boundaries of campus and provide important study spaces, classrooms and venues for events varying from basketball games to improv shows.
There are many historic buildings scattered across Grinnell's campus, however, that slip through the cracks and tend to be forgotten about — buildings that once played a critical role in the College's ecosystem but have since been repurposed.
Who among us has set foot in the beautiful gothic dining room attached to Main Hall? Or the old classrooms in Goodnow or Steiner Hall? Does anyone actually spend time with friends in the Forum?
For this story, The S&B spoke to two long-time faculty members — Wayne Moyer, professor of political science and department chair of policy studies who has been teaching at Grinnell since 1972, and Jonathan Andelson `70, professor of anthropology who was a Grinnell student himself from 1966-1970 before returning as a professor in 1974 — in order to find out what effect the new buildings have on our campus culture. What spaces, special nooks and cozy crannies do students these days simply walk right past, and what kinds of memories were made by previous generations of students in buildings that are now often overlooked?
Before the JRC's relatively recent construction in 2005, the Forum, which now is most known for housing Information Technology Services (ITS) and Student Health and Wellness (SHAW), was a highly frequented spot for students. "The Forum used to be the center of everything on campus," Moyer remarked. "It served the purposes both of the Grill and what is now the atrium in the HSSC."
"
Now we have one huge building. I'm not sure we see much more of each other than we did before, even though we're all in the same place."
— Wayne Moyer, Professor of Political Sciences
The Forum boasted a grill and a coffee shop of its own and two lounges. "The south lounge was a place of small-scale concerts. And it was also a place for smaller-scale lectures," Andelson said. "It was a very, very cozy space in a way that JRC 101 just isn't. And you felt a real sense of community in that room. Sometimes, you get that feeling in JRC 101, but not so often, and in south lounge, almost every event really felt like community," he said. But that was not all that Andelson said the Forum had to offer. "There was a room called the listening room," Andelson reminisced. "And you could go to the basement desk and ask them to put a record on for you out of the listening room, and you can hear the record. It was really cool. I spent a moderate amount of time in the listening room," he said with a laugh.
The JRC's construction in 2005 did not only drastically alter the role of the Forum on campus, but it brought with it the Marketplace Dining Hall, which marked the end of the era in which Grinnell campus boasted two functioning dining halls — one resided in Cowles Hall on  the north section of campus, and the other occupied the large and beautiful gothic dining room attached to Main Hall.
Moyer said he misses the dining hall in Main. "It sort of gave the flavor of a medieval dining hall," Moyer said, before mentioning that the quality of the food service has vastly increased since the Dining Hall's move to the JRC. "You would wait in the line with a tray there, and you had a very limited choice in terms of what you could get. It would be like being in a cafeteria — you didn't have the variety of choices that you have now." These days, that space is often locked up and is occasionally used for events such as alumni dinners.
The much more recent and drastic addition of the HSSC to campus in 2020 brought about a massive change according to the two professors — nearly all the classes that used to take place in Goodnow and Steiner Halls were brought over to the HSSC. "There was a philosophical angle to this," said Moyer. "You had all the science people together [in Noyce], and it sort of bonded them together. I think there was a sense you might be able to do the same thing with social studies and humanities [with the HSSC]," he continued. "Now we have one huge building. I'm not sure we see much more of each other than we did before, even though we're all in the same place."
Goodnow Hall previously housed the anthropology department. "We were there for maybe 20 years," said Andelson. "And that was really nice because we kind of owned the building, and we could put displays up that we wanted," he continued.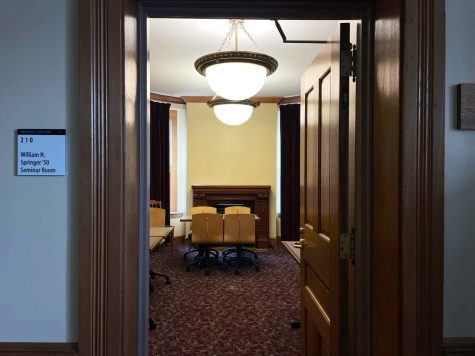 "Steiner used to be philosophy and religious studies offices, and some of their classes were there," said Moyer. "The classrooms in Steiner I never thought were great — there was a great big one underground that didn't have any windows," Moyer said with a chuckle. He said that moving to the HSSC was definitely an upgrade.
The arrival of the JRC in 2005 and the HSSC in 2020 brought a number of quality-of-life improvements for the Grinnell College campus, but it also brought a number of changes to the campus ecosystem. So next time you pass Goodnow on your way to a class in the HSSC, or the old dining hall on your way through Main Hall, think of the many generations of Grinnellians who used those spaces.
"There is some nostalgia. I don't have as many opportunities to go in as many places as often," Moyer said. "The campus is far more beautiful though."