Grinnell Giving Gardens provide free and fresh produce
Small and unnoticed by some, Marvin Garden is tucked back on Marvin  Avenue in Grinnell. Butterflies flit to and fro between the metal arbors encompassing the walkway, and a multitude of plant life thrives in the garden — cherry tomatoes at all stages of ripeness, a variety of peppers and marigolds to keep the insects away. This is just a fraction of what one of Grinnell's many Giving Gardens grow. 
Marvin Garden is one of the nine Giving Gardens spread throughout the town of Grinnell. Although it is one of the biggest, it was not the first Giving Garden established by the Ahrens Family Foundation, which began the program; the one at Grinnell Regional Medical Center holds that honor instead. Started by Chad Nath, the first Giving Garden began the Ahrens Foundation's goal of providing free produce to any individuals who wanted it. All gardens are open 24 hours a day. The only requirement is that individuals who come must pick the produce themselves.
Grinnell's first Giving Garden quickly grew to several. Each garden is kept and tended by volunteers. Effie Hall, a Marvin Garden volunteer, detailed how her interest in native plants led her to be a dedicated volunteer at the garden. 
Through Iowa State University's Master Gardener Program, Hall said she was able to cultivate her interest in attracting native pollinators to her front yard. She said she also became interested in vegetable gardens, just not in keeping one herself. 
"I really have no background in gardening at all," she said. "I am from the Philippines and I grew up in a city where we didn't have any gardens."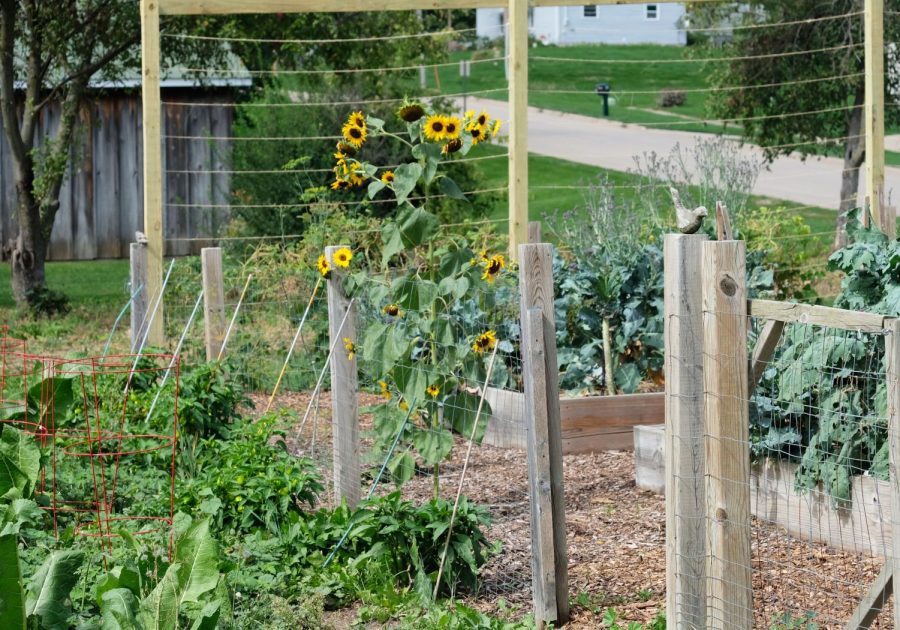 Hall said the opportunity to learn about vegetable gardens without the full responsibility of caring for them was ideal for someone coming from her background.
"I don't want to do a vegetable garden here at home because I think that's too much work," she said.
When asked what her favorite part of working in the gardens was, Hall said seeing the plants grow. "It's nice to see, whether grown from a seed or a little seedling, a plant that grows or bears fruit."
Imagine Grinnell, a partner of the Ahrens Family Foundation that works specifically to help create a more healthy Grinnell, has contributed to much of the Giving Gardens' prosperity. Due to hot and dry periods in Iowa, Imagine Grinnell received a fund from Grinnell College over the summer to purchase a trailer with two water tanks. While this makes watering the plants more efficient, Hall said it still did not solve all of their problems. 
"The city has to come and fill it up for us to have water, but it [Marvin Avenue] is a city street so there are water pipes under the street. We can definitely be connected to the main water system and have our own source of water," she said. Hall added that one of Imagine Grinnell's goals for the next growing season is to have this direct connection to the city's water system.
When the first hard freeze comes to Grinnell each winter, the Giving Gardens will go into "hibernation," according to Jennifer Cogley, the director of partner programs for the Claude W. and Dolly Ahrens Foundation. Cogley said volunteers cover the gardens with tarps, weed out all the dead plants and begin planning for the next season.
Cogley said the gardens are always open to volunteers, which involves current Grinnell College students. Any students interested should contact the Claude W. and the Dolly Ahrens Foundation.