Rally to Resist: Grinnellians protest anti-LGBTQ+ legislation
Over 1,000 protesters, including Grinnell students, faculty, staff and community members, gathered at the foot of the Iowa State Capitol building in Des Moines, on March 6, rallying against anti-LGBTQ+ legislation currently being debated by the majority-Republican Iowa legislature.
The protest was sponsored by groups across the state including One Iowa Action, League of Women Voters (LWV) of Iowa, ACLU of Iowa and St. Paul's Episcopal Church in Grinnell, among others. Demonstrators held signs and chanted, urging the legislature to vote down anti-LGBTQ+ legislation. The rally came after hundreds of Iowa students walked out of school on Wednesday to protest the legislation, according to the Des Moines Register.
While the majority of legislation affects public educational institutions or those under 18, Rachel Bly `93, Grinnell College director of conference operations and events, said advocacy for political change is essential to push back against the legislation and create change to protect LGBTQ+ Iowans.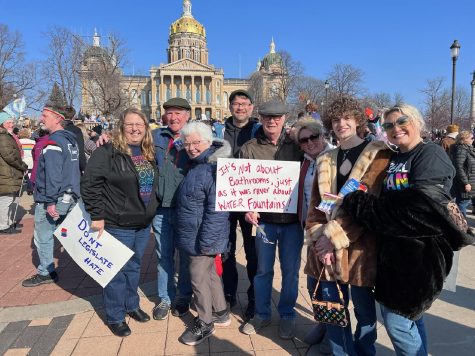 "As students, faculty and staff, we can be advocating, we can be voting, we can do things like go to the capitol," Bly said. "It's really, really critically important for us to do so on a personal level."
Iowa's legislative session ends April 28, 2023. Legislation slated to be debated on the floor includes a bill mandating that faculty or staff notify parents or guardians of a student's transgender identity, a bill banning mention of gender identity or sexual orientation from grades K-6, a bill allowing healthcare providers to refuse care on the basis of "sincerely held beliefs," and a bill restricting students from using bathrooms matching their gender identity from grades K-12.
"
We used to be motivated by what was right, not what was political. There's not going to be any young people left because of things like this"
— Rachel Bly `93
On Wednesday, March 8, following the Sunday protest, the Iowa House of Representatives passed Senate File 538, a bill prohibiting Iowa doctors from providing gender- affirming medical care like puberty blockers, hormone therapy or surgery to people younger than 18. The bill had been passed along party lines — 33-16-1 — by Senate Republicans late Tuesday night.
Grinnell Representative Annette Sweeney and Senator Dean Fischer voted for the bill's passage.
"The Republicans have the votes for all of these bills that are left. That's the reality. These bills are probably going to pass," Bly said. "That doesn't mean we need to give up, that means we need to fight harder."
The College, being registered as a tax-exempt non-profit, cannot legally participate or intervene in any political campaign on behalf of a candidate or make partisan comments in official publications. College employees, however, are not restricted from political activity or speech.
"I think that even if you're here for four years, you can be part of the balance," Bly said. Iowa has moved to electing Republicans by wider margins since 2016. In 2022, Iowa Republicans gained a supermajority in the Senate, took control of 60 of Iowa's 100 House seats, obtained all 6 congressional seats and took hold of every state-wide office except the Auditor's office.
"We used to be motivated by what was right, not what was political," Bly said. "There's not going to be any young people left because of things like this."
The Grinnell LWV holds regular legislative coffee sessions at Drake Community Library and on Zoom for constituents to ask questions of Grinnell's elected officials, including questions on LGBTQ+ issues. The date of the next session, scheduled with Fischer and Sweeney, has not yet been announced.