Thomas Nsereko dishes on balancing life as a student chef
From learning to roll out roti when he was three years old to his first gig at a Michelin-starred restaurant in high school, Thomas Nsereko `26 now brings his love of cuisine to the Grinnell community. A cook in several gourmet restaurants, Nsereko spoke about his experience in professional culinary settings that many people may only see in movies.
"Being someone that's very interested in people, finding that way to connect with people from anywhere around the world, just by sharing a meal, has been a moving force for me in my career as a cook," says Nsereko.
His parents worked long hours after moving to Des Moines; his mother is from Scotland and his father is from Uganda. As such, a caretaker named Amudhu often looked after young Nsereko, and he helped her cook traditional Indian foods. He said that he became inspired simply by working on those small kitchen tasks, putting him in the direction he has followed his entire life thereafter.
Nsereko said that for him, food crosses the boundaries of art, passion, work and necessity that highlight the beauty possible from connecting with others and their culture through this practice. He sees cooking, with respect to people, as "an opportunity to engage with their art and their tradition in a way that hopefully will put a smile on your face and on theirs, as well as respecting the tradition and the love that goes into the dishes that they prepare for their family."
Some cross-cultural dishes Nsereko makes include the Indian roti, Vietnamese pho, the American burger and Italian uovo ravioli. In addressing some of the different foods he listed as his favorites or important to his experience in some way, Nsereko brought up the intersection between knowledge and practice that comes from cuisines around the world.
Nsereko has worked in several gourmet restaurants from Des Moines to New York. Three of note in Des Moines include Harbinger, Aposto and Proof, where he was a chef de partie, or line cook, running a specific station to prep it, work, clean and break it down. This position includes service work, cooking, plating and serving.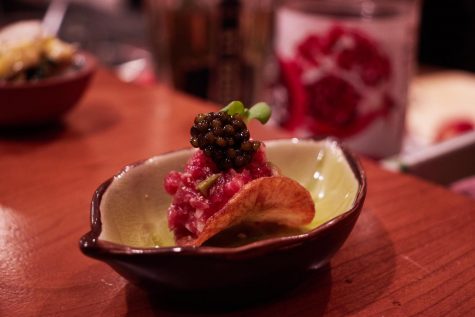 In high school, Nsereko worked long hours after classes in professional settings. He says that he was balancing that stress with maturing in his teen years. "I was always the youngest in the kitchen," he said.
"There is a distinction to make between loving something and obsessing," he says of working those 40- to 50-hour shifts, while figuring out if he wanted to commit to the career long-term. "Obsession doesn't have to be healthy, but when you have that love and respect for something, at the end of the day, no matter how stressful it is, there's still some, 'I want to be here.'"
As he continues to hone his craft between Grinnell's campus and his home of Des Moines, Nsereko reflects on how coming to the College has influenced how he sees his cooking now. He highlights how he has been able to meet with people from around the world who bring recipes from their respective homes. "Something that's been really awesome for me," he said, "is being able to communicate in a way that makes me feel like I'm at home because I'm surrounded by people that care about food so much." 
When asked about his preferred setting for making dishes, Nsereko said, "I speak on behalf of a lot of cooks when I say this, but most of us really, really enjoy cooking for our family and our loved ones." For Nsereko, that includes individuals at Grinnell College. He excitedly invites anyone interested in a recipe, in learning to cook or about food in general to contact him on @foiemas on Instagram.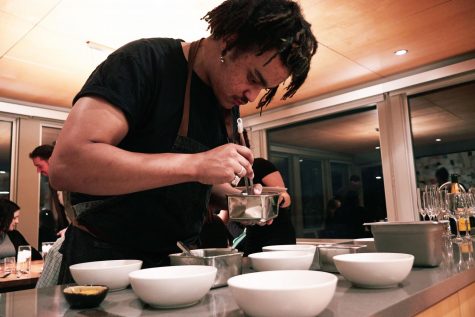 As for the near future, Nsereko has been offered positions at a few high-end restaurants for the summer of 2023 and is deciding between the three-Michelin-starred Eleven Madison Park, ranked first on the list of the World's 50 Best Restaurants in 2017, and the one-Michelin-starred One White Street, both in New York City.