Women's soccer raises the bar with a commanding season
In an exciting season, the women's soccer team went undefeated in Midwest Conference games and made the first program appearance in the National Collegiate Athletic Association (NCAA) Division III tournament in over a decade, a dramatic turnaround from last season where they only won 3 out of 17 games.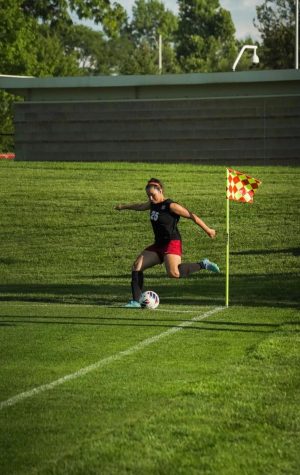 "I think a lot of times last season we were looking around at each other saying, we're not a bad team. We're good. We have so much potential," said Kirsten Koester, head women's soccer coach.
This season, the team realized their potential in a big way with an overall record of 11-3-5 (Win-Loss- Tie), a Midwest Conference record of 7-0-1 and 6 of 7 home games ending in a win. After defeating Beloit 4-2 in penalties, Grinnell was crowned Midwest Conference Champion and secured their spot in the NCAA Division III tournament for the first time since 2006.
According to Koester, the addition of assistant women's soccer coach Liza Stone since the 2021 season was a major contributor to the team's recent success. "She just became an immediate part of our family and just a really great addition," said Koester.
The team's mantra of #raisethebar energized them from as early on as their pregame practices, with the fourth-year members taking the lead in setting a tone for a successful season, said Koester.
"I think we just felt really strongly about the team, community and environment, and we were ready to commit to soccer," said Tali Berk `24, a forward.
"Preseason was a lot of fun," said Antarah Chopra `23, a defender. "The energy that our team brought, just the vibes were infectious. And we just had a lot of fun at practice every day."
Even when facing an early loss to Carleton College on Sept. 10 and a tie with Nebraska Wesleyan University on Sept. 17, the team's spirit held strong even despite the prior season's struggles.
"There's a great resilience that the players displayed that started last November," said Koester. "It wasn't just starting in August. It was in direct response to last season."
Facing a post-COVID season with a team that had neither played nor practiced as a complete unit since 2019, the return to play in 2021 brought with it challenges both on and off the field, according to Chopra.
"Part of it was like bouncing back from COVID," said Chopra. "A lot of teams in our division did get a COVID year. A lot of their soccer teams got to compete and we didn't. I mean, we tried training in the spring, but it definitely wasn't what other teams had."
With the return of the whole community to campus in the fall of 2021, the resumption of regular sports seasons and the transition back to in-person classes proved difficult, according to Chopra. "Thrown in right away, I think it was pretty overwhelming," Chopra said.
This year was different, however. The team was practiced and ready to return to the field.
"I think it was just kind of like a new team, a new vibe," said Chopra. "Just a really fresh start."
With their first Midwest Conference game ending in a 4-2 win against Illinois College, and all but one of their subsequent conference games also ending in victory (the only exception being a 0-0 tie against Knox College), the team found their rhythm.
"
Everybody felt that any game could be our game for the taking."
— Kristen Koester, head women's soccer coach
"Everybody felt that any game could be our game for the taking," said Koester.
Indeed, the team continued to win. They even managed to secure their first NCAA tournament spot since 2006 after defeating Beloit College 4-2 in a penalty shootout in the Midwest Conference tournament championship.
Though their NCAA Division III run was cut short by a 2-5 loss to Wartburg College on Nov. 12, the team more than sur- passed their own expectations.
"Conference championship was our goal," said Chopra. "We didn't even think that was attainable."
Following the season, Koester was named Midwest Conference Women's Soccer Coach of the Year, and Chopra, Elinor Arneson `23, Jane March `24, Maddie Beltramo `25 and Keiko Smith `25 were named to College Sports Communicators Academic All-District Team, with March also was named to the United Soccer Coaches NCAA Division III All-Region Team, specifically the Region IX second team at a defender spot.
As far as next season's expectations, head coach Kirsten Koester simply said: "Repeat."