Meet the Bartenders: Eagles Edition
The Fraternal Order of Eagles is a national non-profit fraternal organization that raises money for various local and national charities. According to the Fraternal Order of the Eagles's website, some of their notable societal contributions include founding Mother's Day, Social Security and funding the $25 million Fraternal Order of the Eagles Diabetes Research Center at the University of Iowa.
One of their many locations happens to be right here in Grinnell. Located at 616 Fourth Ave, Eagles is a popular spot for residents and students alike. Meet Troy Kingery and Chris Mcvay, two of the bartenders who work at Eagles:
Troy Kingery
Troy Kingery was born and raised in Grinnell, Iowa. He graduated from Central College in 1993. He has been a bartender in Grinnell since he graduated college and has been working at Eagles for the last 20 years.
Prior to working at Eagles, Kingery was a bartender at the Down Under Pub, which was located in what is now Canary Underground.
"We used to host the College's 100 days party [there]," Kingery said. "So that was always fun. It was in a basement, so the ventilation was really poor. And there'd be so many people in there and it would get so hot and sweaty. And just the whole atmosphere would be so humid that by the end of the night, my shoes would be red because the paint would literally be coming up off the floor," Kingery said.
Kingery also said that he first got introduced to the Fraternal Order of the Eagles by his father, who was a Trustee at the Eagles. Kingery explained that a Trustee helps in the maintenance of the club and its employees. 
As far as the job itself, Kingery said that it is pretty easy. "You basically just keep everybody happy," Kingery said. "Make a lot of drinks."
Over the 30 years that Kingery has spent bartending, he said he has noticed that a lot of the drinks from the 90s have disappeared and his job responsibilities have shrunk. Kingery's duties used to include tasks like sweeping, mopping and cleaning the bathrooms.
"Now it's just basically you get done, you wash the dishes, you put the stools up and go home go home, they have somebody else take care of the cleaning," Kingery said.
As far as drinks go, Kingery said that Tom Collins was a very popular drink in the 90s.
"
And now I can't tell you the last time somebody asked me to make them a Tom Collins."
— Troy Kingery, bartender at Eagles
Bartending at Eagles offers Kingery the chance to meet people from different age groups. Kingery explained that during the week he mainly sees older adults come in, and on the weekends, it is more of a mix of both old and young groups.
While he was in high school, Kingery said "I did a public service announcement [for Mother's Against Drunk Driving] that was 'Make 1993 a class act: don't drink and drive,' and now I am a bartender."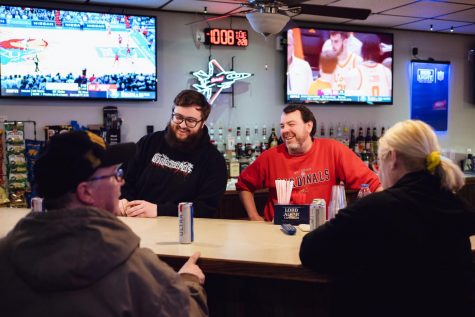 Chris Mcvay
Chris Mcvay has lived in Grinnell since he was six years old. Like Kingery, Mcvay ended up at Eagles through his connection with a Trustee of Eagles.
Mcvay said that he met a Trustee while working at Jeld-Wen, an interior door manufacturer in Grinnell. After Mcvay asked if he could help out at Eagles, he was offered a job soon after. Mcvay started out by helping with the fundraising events that Eagles hosts, and now is the main bartender during the week.
Mcvay said he enjoys working at Eagles because of the laid-back environment. Mcvay said that Eagles doesn't have traditional bosses who order you around and oversee your job. The Trustees, who are technically Mcvay's bosses, don't interact with employees as a boss, but rather as a fellow member.
While there is the occasional barfight, Mcvay said that 99% of the time everyone is just having a good time. Mcvay has gotten to know a lot of customers and bartending feels more like hanging out with friends than a job.
"
There's a bunch of friends and family I'm hanging out with every night…It really doesn't feel like a job."
— Chris Mcvay, bartender at Eagles
"I just love bouncing around behind bars," Mcvay said, "I pray that that gets me somewhere in life. My goal is to go to Chicago."
Mcvay recommends the Gummybear, which is made with cherry vodka, peach schnapps, Sprite and pineapple.