Indoor track and field raises the ceiling with new records at Darren Young Invitational
As the indoor season approaches its end, track and field teams tied and broke school records, earning multiple first place and podium finishes at the annual Darren Young Invitational. Hosted on Saturday, Feb. 11, both Grinnell teams's performances highlighted a successful competition in the leadup to the Midwest Conference indoor championships.
For the men's team, Ian Clawson `26 claimed first place in the weight throw, breaking his own school record with a mark of 53-5 3/4. He attributed his success to "following through on the work we put in in practice." Clawson added, "I was able to stay calm through most of the meet, but also have that internal energy necessary to push for those kinds of records."
Meanwhile, Lucas Fadden `26 tied his own school record in the 60-meter dash with a time of 7.01 seconds, taking second place.
Micah Cantor `24 won the 800-meter race with a time of 1:59.54 while Brian Goodell `24 won the 5000-meter with a time of 15:18.68, missing out on Grinnell's all-time top ten list by only .08 seconds.
Other standout performances include Connor Heagy `26 and Andy Chestovich `26, who took second and third in the 800 with times of 2:00.88 and 2:01.47, respectively The 4×200 relay team of Heagy, Xavier James `25, Noah Mendola `26 and Keaton Fitzgerald `26 took second in 1:38.00. Luca Fornari `25 took second in the pole vault with a jump of 13-10 1/2 which placed him ninth on Grinnell's all-time list, while Jack Novelle `26 was third in the high jump at 6-0.
The men's track and field team placed fourth place at the meet with 94 points, behind winner William Penn University with 108.5 points.
On the women's team, Keely Miyamoto `26 won the 5000-meter with 18:10.56, landing them in third place on Grinnell's all-time list with the fastest time at Grinnell since 2008.
The team also had several sec- ond-place finishes: Morgan Karow `26 in the 300-meter race with a time of 11:20.53, as well as the 4×400 relay team of Sonia Edassery `23, Sadie Staker `24, Maile Crowe `25 and Athena Frasca `23, whose time of 4:13.40 ranks seventh in program history.
Edassery, Crowe, Frasca and Ava Taylor `25 took third in the 4×200 relay with a time of 1:48:94, second all-time at Grinnell, while Melanie Oden `25 finished third in the long jump and triple jump with distances of 15-4 3/4 and 31-7 1/4, respectively.
The women's team placed third out of nine teams with 64 points. Central College won the meet with 177.5 points.
Solid performances for the men's and women's teams at the Darren Young Invitational reflect a productive and successful indoor season that has seen both teams develop and improve. "Over the course of the season I feel like pretty much everyone on the team is seeing improvement," Goodell said. "It's still just indoor season too, so there's a lot of potential especially when outdoor comes around," he added.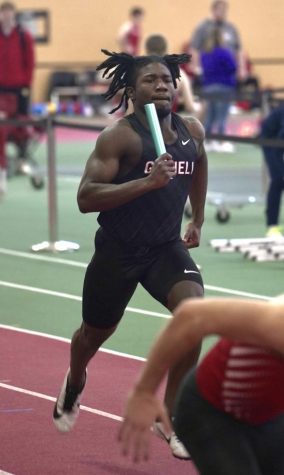 Goodell highlighted Miyamoto and Clawson specifically as standouts during the indoor season, but he stated that the entire team has performed very well. "If you put our team this year up against our team last year, I think we definitely would win this year," Goodell said.
Sarah Torrence `23, captain alongside Cantor, Frasca and Alex Hiser `23, attributes the program's success this winter to added depth and a large crop of new athletes on the team.
"It's pretty exciting," she said. "I think it's a combination of heavy recruiting and different levels of dedication and persistence that we're seeing among athletes."
According to Clawson, "It has been a lot of fun. I've seen improvement, I'm seeing growth, and that's all I could really want."
Now, the team looks forward to the remainder of the indoor track season. Allison Rabbani `25 said that the women's team members are eagerly following the progress of Ripon College and Lawrence College, two of Grinnell's biggest rivals, at their upcoming Conference championship meet.
"It'll be exciting to see what it's like to actually race against Ripon," she said. "It's one thing to keep track of their progress [online], but it'll be another to compete against them."
Torrence said that she is looking forward to seeing how the team progresses over the next few weeks, adding that as long as people can stay healthy, she thinks the Conference meet will go well.
"
If you put our team this year up against our team last year, I think we definitely would win this year."
— Brian Goodell `24
"I think we're all focused on Conference now, but also just moving for- ward and getting ready for the outdoor season to start afterward," Goodell said.
The men's and women's indoor track and field teams head to the Wartburg Invitational on Friday, Feb. 18, before participating in the Midwest Conference indoor championships at Illinois College on Feb. 24 and 25.