Los Girasoles' Tex-Mex style food brightens Grinnell community
Los Girasoles, a family-owned Mexican restaurant located on West Street south of downtown Grinnell, opened six years ago in 2017. Since then, it has become known for its quality food, friendly service and as a great place to celebrate your birthday.
Los Girasoles offers indoor and outdoor dining, and it serves Tex-Mex style food along with a few traditional Mexican dishes. They offer a variety of drinks, including margaritas, cocktails and beer. They also offer catering options for businesses and sporting events.
"We try to focus a lot on good service and friendly service," said Jairo Rosas, front-of-house manager.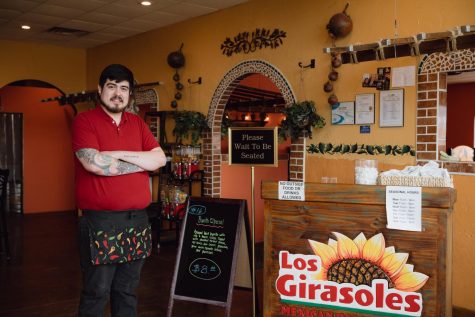 Rosas said that while he used to be intimidated by large groups of customers, he has since grown to be more comfortable with bigger groups.
"We enjoy it when you guys are here, you know, the big 'ol groups of students. We enjoy making the margarita towers and stuff for you guys," Rosas said.
"And we know that we are in a college town, so we try to focus a lot on giving everybody what they need when they are here, and stuff like that. We make sure everybody leaves happy," Rosas said.
During the COVID-19 pandemic, the restaurant saw a decrease in orders, but it has since rebounded. Rosas attributed the surge in customers partly to people wanting to get out of their houses and in part because of the outdoor patio dining area that was remodeled.
"It [the patio] was there before, but it kind of wasn't looking so great," Rosas said. "So that definitely brought in a lot more people in the summertime [after the remodeling was completed]."Rosas said that Grinnell College graduations always provide a boost in customers.
"The community here is very nice to us, you know, so we like that," Rosas said.
Rosas, who has a family of his own, said that he likes serving other families and making sure everyone has a good time.
"
I enjoy just making sure everybody leaves happy, because when I go out to eat, I like a good time."
— Jairo Rosas, house manager of Los Girasoles
Los Girasoles was opened by Rosas' mother and her friend in April 2017, Rosas explained. "It took the restaurant a while for it to get the staff established," Rosas said.
"My mom says that she enjoys working here in Grinnell. She loves the community here. We've gotten to know customers over time, and we've kind of built friendships with them," he said.
His mother also owns and manages La Casa de Pancho in Maquoketa, Iowa. Rosas and his sister manage Los Girasoles. Rosas explained that his mother wanted to pick a different theme for this restaurant from her previous restaurant, which was more rustic in style.
"Another thing of the name was just so it was easier for people to pronounce," said Rosas, "But now people have a hard time with the 'g' because it makes an 'h' sound. I don't think that [the name] worked out too well."
Thinking about having a meal at Los Girasoles? Rosas recommends the tacos asada and a blended strawberry margarita.