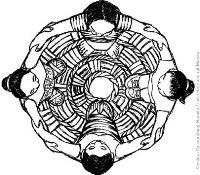 Last week, Monsoon hosted Yoni Ki Baat, which means roughly "vagina talks." The event served as a space for Asian and Pacific Islander women to share poems and stories, sticking to a common theme of sex.
Monsoon United Asian Women of Iowa is a grassroots, non-profit advocacy group based in Des Moines, committed to helping survivors of sexual assault in Asian and Pacific Islander communities in Iowa. Monsoon staff members are multilingual and trained in advocacy, and Monsoon's programs include direct service, community outreach and education, violence prevention and technical assistance.
Monsoon was founded in 2003 by Mira Yusef and Shashi Tenneti, according to their website, muawi.com. Since then, they have built and continued to build a collective of women, working to raise awareness and support in regard to domestic violence and sexual assault in Asian and Pacific Islander communities. Esther Hwang '19 and Mariyah Jahangiri '20 are campus outreach coordinators, helping in Monsoon's effort to increase their presence on college campuses, ensuring that students have it as a resource.
According to Hwang, sexual violence is an extremely difficult topic to talk about in many Asian communities, in part because sex is not often discussed either.
"Before we can talk about sexual violence, we have to talk about sex," Hwang said. "In many Asian communities, sex isn't something that's talked about a lot, so we want to open the discussion, even to small things, like a woman having an orgasm."
Yoni Ki Baat was part of the goal to expand the discussion of sex and sexual violence in Asian and Pacific Islander communities, and according to Hwang, they have created an incredibly open space where participants can be vulnerable.
"It was vulnerable, but not intimidating," Hwang said. "People were on the floor doing crafts, and we were all sharing stories." Hwang shared poetry about eating disorders and about rape culture, and while some stories and poems were serious like these, others were more lighthearted. For example, one poem that Hwang really enjoyed centered around traditions of love. "It might be that intense, but it also might not be," Hwang said.
For this event, the Monsoon coordinators teamed up with the South Asian Student Organization (SASO) and the Ana-Cha Feminist Film and Art Collective, to give as many people as possible the opportunity to participate. Hwang emphasized that Monsoon and Yoni Ki Baat strive to be inclusive to those who may not identify specifically as Asian and Pacific Islander women, for example, people with transgender or multiracial identities.
This was the first time Yoni Ki Baat has been held at Grinnell, but it is not the first event held by Monsoon. For instance, last semester Monsoon teamed up with the Asian American Association to hold a "Decolonizing Yoga" workshop, bringing Roopa Singh, founder of South Asian American Perspectives on Yoga in America, to talk about yoga's relationship to religion and to address the appropriation of yoga.
Hwang and Jahangiri plan to organize more iterations of Yoni Ki Baat and are currently working out the logistics, especially with the added momentum they have from this empowering space.
"In the beginning, there were lots of pauses because we didn't know who wanted to share … or there were people like me who had something prepared but were feeling it out," Hwang said. "But once it got so open, people were saying, 'I want to share next.'"