Sexual Climate Survey Results Go Public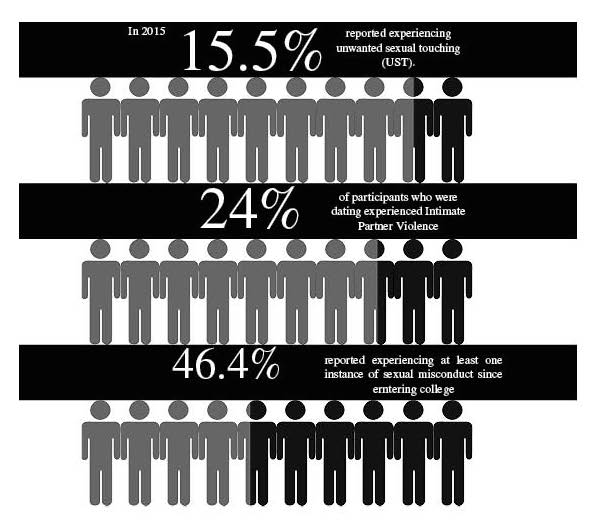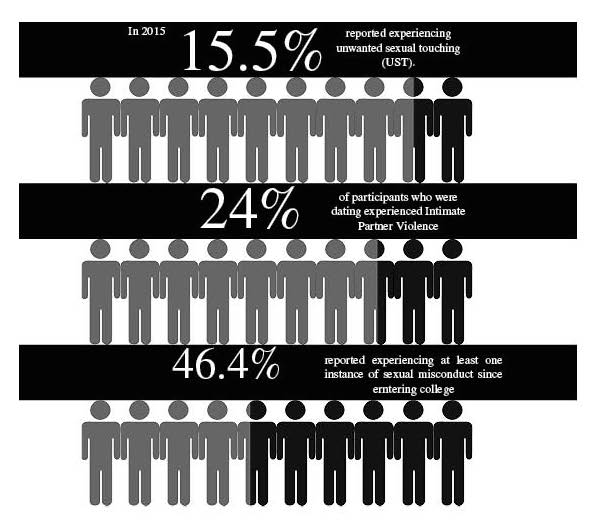 Teresa Fleming, News Editor 
flemingt17@grinnell.edu
Last Sunday, Nov. 10, members of the campus community learned the results of the campus-wide 2015 Sexual Conduct: Culture and Respect survey. Among other developments, the survey revealed that while the overall number of sexual assaults reported by participants has not decreased since the survey was last issued in 2013, the number of incidents of unwanted sexual touching has decreased significantly.
The study was created and analyzed by Professor Christopher Ralston, Psychology, along with Tyler Anderson '16, Rachel Cusick '17, Jen-Ai Notman '16, Hayley Levin '16, Nele Löcher '17 and Erin Weber '16, who worked over the summer to analyze the results of the survey as part of a Mentored Advanced Project. 
The survey measured five major forms of sexual misconduct: stalking, intimate partner abuse, unwanted sexual communication, unwanted sexual touching and sexual assault. Ralston explained that the biannual survey, which was first issued in 2013, was intended to help track the efficacy of the College's programs which aim to prevent sexual misconduct. It also represented an attempt to remedy the gap that Ralston found in existing research on sexual misconduct.
"The research literature as it existed at that time really was filled with research studies that weren't particularly well conducted, and the results were tentative at best," Ralston said in his introduction to the presentation. "To be honest, there wasn't a whole lot out there that did seem effective."
The survey found that while 42.4 percent of participants experienced some form of sexual misconduct in 2013, that number fell to 31.1 percent in 2015. Ralston said that this change can largely be attributed to the significant decrease in unwanted sexual touching reported by participants. The survey also noted that parties at Harris and Gardner continue to be the places where students are most at risk to experience unwanted sexual touching. 
While in 2013 4.7 percent of participants reported experiencing an attempted or completed sexual assault, in 2015 4.0 percent of participants reported such an experience. Ralston noted that this drop is not statistically significant and expressed disappointment that the survey did not indicate a decline in rates of sexual assault.
"I was disappointed, I think, also because there have been efforts—active bystander training, consent definition training, and NSO, and campus dialogue and just sexual assault being more on people's minds," Ralston said. "You would kind of hope that these things [would] converge a little bit to make an impact, and so I will say certainly I was disappointed that we didn't see that rate go down farther."
Notman, whose research focused in intimate partner abuse, said that she was most surprised to learn that 21.4 percent of students in dating relationships had experienced some form of intimate partner abuse, which included controlling behaviors, pressure and threats or violence. Moreover, Notman said the survey results reveal a lack of knowledge about what constitutes intimate partner abuse. She suggested that the College could do more to educate students about the signs of abusive relationships and make them aware of the resources which are available.
"We haven't, as an institution, really been focusing on intimate partner abuse even though it's one of the highest rates on campus and has huge detrimental consequences," Notman said. "People are coming into college and having their first serious relationships, so it's a really important time."
Löcher called attention to the statistic that 50 percent of participants who experienced sexual assault reported that there was an opportunity for bystander intervention. The survey found that receiving active bystander training was not significantly related to engagement in active bystander behaviors. Löcher suggested that the bystander programs currently in place are not sufficient.
"I think it's unrealistic to expect that an hour and a half at the beginning of your freshman year is going to significantly impact how you're going to act," Löcher said.
The survey also made note of what groups of participants were most at risk for various forms of sexual misconduct. Participant groups most at risk for any form of sexual misconduct included cisgender female students, transgender or non-binary students, non-heterosexual students and domestic students of color. 
"Half of first-year female-identified students had experienced, by March or April of the year they took the survey, some form of sexual misconduct," Ralston said. "Those are pretty high rates. Shockingly so, if I do say so myself."
Title IX Coordinator Angela Voos anticipated that the results of the survey would have a significant impact on the College's future efforts to prevent sexual misconduct. 
"I just see so much opportunity, because we know concrete things about our climate that we can develop programs around. And we can focus the programs," Voos said. "We need to prioritize—what are the most important things we can do to reduce our sexual assault, and sexual misconduct in general?"
At the presentation's close, Anderson announced the formation of a new group, Students Promoting Sexual Respect, which will work to build upon the results of the survey and prevent sexual misconduct on campus.
"We're creating a new student group to harness that energy, because many of you in this room want to do something about this problem and so do we," Anderson said. "Everyone is welcome, including those that are passionate, lukewarm or skeptical. The only requirement is a respect for others' experiences and a desire for real change."
Ultimately, according to Ralston, the responsibility to respond to the survey lies with the Grinnell community.
"Now the community has this, and now it's the community's responsibility to say, 'Well how are we going to make sense of this?'" he said. "Is this going to be acceptable or is this not going to be acceptable? And where do we go from here?"
The full results of the survey are available online at www.grinnell.edu/campus-life/sexual-respect/reports.