Grinnell's handling of sexual assault cases criticized in media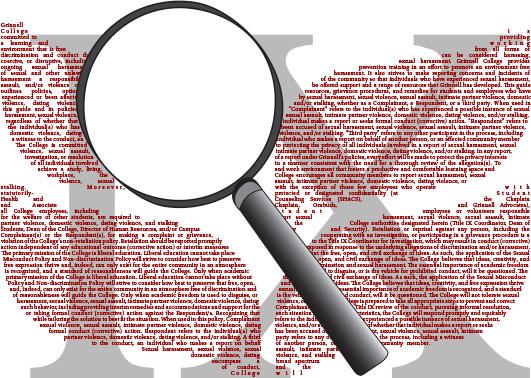 Grinnell has experienced a flurry of media attention this week due to its alleged mishandling of three sexual misconduct cases, which were detailed in an article published by the Huffington Post on Tuesday, March 3.
The story, called "Why Even Small, Progressive Grinnell College Has Trouble Dealing With Sexual Assault On Campus," written by Tyler Kingkade, traced some of Grinnell's history of handling cases of sexual misconduct under Title IX—the federal statute that mandates gender equality in schools receiving federal funding—in what it alleges are failures of the College to properly support and safeguard survivors of sexual assault.
Kingkade published accounts of student-survivors dealing with Grinnell's Title IX department. These narratives depicted the administration as providing inadequate academic resources for students coping with trauma following their assaults, for following procedures that were highly discouraged by the U.S. Department of Education at the time and for failing to adequately separate students when there was a no-contact order in place.
"[One student-survivor] said college administrators suggested she request a mediation session with [the accused assailant], a practice the U.S. Department of Education had explicitly prohibited one year earlier in a letter to all colleges," Kingkade wrote in the article.
The day before the Huffington Post story was published, Grinnell President Raynard Kington sent a request to the Department of Education's Office of Civil Rights (OCR) to review the three cases in question.
In his campus-wide email on Monday, March 2, announcing the College's decision to request a review with the OCR, Kington explained that federal law prohibits colleges from releasing details of a specific case to a reporter, suggesting that the College was unable to confirm or deny case-specific details in the Huffington Post article.
"In trying to be responsive to Tyler Kingkade's questions, we kept coming up against the fact that we couldn't share relevant information with him because of federal privacy laws," Kington wrote in an email to The S&B. "Colleges can't comment even to confirm or correct what a reporter has heard from other sources, including the complainant or respondent—regardless of whether those students have publicly identified themselves and described their experiences."
In a follow-up email, Kington wrote, "We will continue to offer the widest possible range of confidential and other resources to victim-survivors and students. We will encourage students to partner with us as we improve our preventative and our response work. Grinnell Advocates and SGA have done exceptional work as student leaders, and SGA has started a new working group. I also commend Dissenting Voices for raising awareness of the serious issues surrounding Title IX, here and nationally."
Student Activism
Student-survivors were put in touch with Kingkade after working with End Rape on Campus and Faculty Against Rape, two organizations that work with student-survivors to advocate for change in Title IX policies on college campuses. The organizations, both of which were co-founded by Caroline Heldman, have advised various Grinnell students for the past two years. Based on this advice, six Grinnell students filed a Title IX complaint to the OCR under the Department of Education on Feb. 19, before Kington requested the review.
"On the whole, it's great that the administration wants to comply with an audit," said Anna Banker '15. Banker was one of three students whose cases were featured in the Huffington Post article and has worked with Heldman. "Let them bring the feds in. That's awesome. That's what we want. That's our goal all along … for the policies to be improved, so if they're on board, great."
Banker is also a co-leader of Dissenting Voices (DV), a student group that formed last fall to advocate for Title IX policy reform on Grinnell's campus. She said she has been distancing herself from the group so that her personal case does not become intertwined with DV's goals, which include more serious punishments for students found responsible for sexual misconduct.
"Dissenting Voices agrees with [experts quoted in the Huffington Post article, Associate Vice President of Student Affairs Andrea Conner, and an accused student] that if the school finds someone guilty of nonconsensual sexual penetration, they should be expelled."
As the article brings Grinnell into the national spotlight, Banker stated that she hopes the attention results in changes including a women's center on campus, a full-time Title IX coordinator, stronger sanctions for students found responsible for sexual misconduct, sexual assault nurse examiners (SANE nurses) on campus and more funding used for Title IX issues.
Since Banker's interview, SGA has approved a budget of $888, which, along with $112 raised through a DV bake sale, will pay for training for two SANE nurses. The SGA budget was requested by both the Intersectional Feminist Alliance and DV.
Additionally, a second DV bake sale on Thursday, March 5 raised $116 for self-defense classes and "I Stand with GC Survivors" stickers.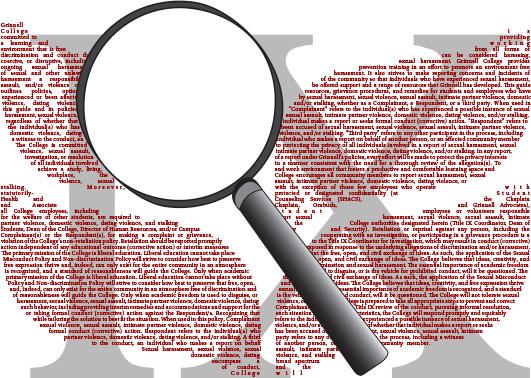 Request for Review
Kingkade's story has led to the College requesting a review with the OCR specifically for the three cases named in the article, though if the OCR takes on the review it will have full access to any cases.
The College has not requested a federal investigation, but instead asked the OCR to provide guidance on Grinnell's Title IX policies and procedures, according to Kington.
"We decided to go to OCR now because the media discussion of campus sexual assault has reached a pitch of intensity and inaccuracy," Kington wrote in an email to The S&B.
In a second email, Kington clarified the College's intentions to continue improving its policy.
"We're fully committed to continually assessing and improving our work. That effort will continue, but we do it because it's the right thing to do, not because of media coverage," he wrote.
When the cases in the Huffington Post article took place, during the 2011-2012 school year, Kington hired Title IX consultants Gina Maisto Smith and Leslie Gomez to review the cases following the publication of an article in The S&B on May 4, 2012 calling for Title IX policy reform.
"While the Education Department hasn't confirmed this with me, I'm certain [the OCR] will open some sort of review," Kingkade wrote in an email to The S&B. "Either they'll look at the complaint filed by some of these students and see that as justifying an investigation, or they'll respond to the College's request. Once that happens, it could be anywhere from six months to two or three years, and then the feds will likely release some sort of letter of findings or voluntary resolution explaining what they found."
SGA President Opeyemi Awe '15 stated that while she was initially concerned the article would not be representative of the student body and different voices, she felt that the article did an effective job of incorporating the spectrum of viewpoints.
"I certainly do applaud the efforts of the Huffington Post to reach out and try to get as many voices in there as possible," Awe said. "I think they did an effective job recognizing the complexities of what it means to enforce a no-contact order when your campus is two blocks."
Current Policy Lacking
Heldman stated that she felt the College's response to these issues has been unsatisfactory and lacking.
"Most schools don't let their rapists sit in a classroom next to survivors," Heldman said. "That presents an unconscionable trauma to survivors, and at the very least, Grinnell needs to institute stronger sanctions for those found responsible for sexual violence. That is unusual, I will say."
According the College's 2014-2015 Student Handbook, which outlines Title IX policies and procedures, "… [the] intent of a campus no-contact order is to minimize the risk of contact with another student, not to prevent one from inadvertently running into the other party in the dining hall, mail room, Harris Center or other shared spaces. Grinnell College campus no-contact orders do not contain written expectations related to proximity from each other."
"Typically we update policies in the summer, and given recent questions about no-contact orders from a variety of perspectives, we'll review this and announce to campus if we do make changes," wrote Conner in an email to The S&B.
Some, however, view the current no-contact policy as harmful.
"I have worked on dozens of cases and I have yet to see an institution fail to support its survivors after they have dealt with trauma and they have found another student responsible," Heldman said. "Not only do they face the possibility of seeing their rapist on campus, but in the classroom. Also, facing retaliation that is not addressed, from the friends of perpetrators, and Grinnell also appears to have, based on what I've read and heard from student-survivors, a lot of survivors drop out of the institution because they're not supported in other ways."
For further information, read the full text of President Kington's interview with The S&B and a statement by Dissenting Voices online at www.thesandb.com.
—Emma Sinai-Yunker '15 contributed to this report.