Coaches Catch Prospective Students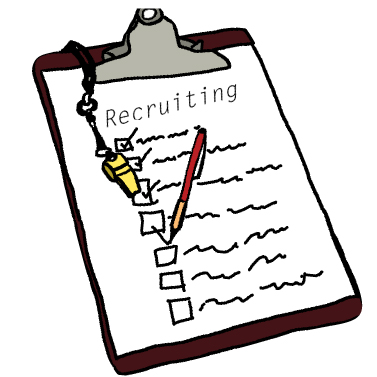 By Jacqui Vautin
vautinja@grinnell.edu
Campus has been swarming with admitted students as of late and admitted student-athletes make up many of the faces in the crowd. Coaches spend much of their time recruiting prospective student-athletes, talking to them on the phone or through e-mail, scheduling and organizing visits and working to ensure they come to Grinnell.
Data from the Student-Athlete Survey of Social Norms, conducted in the fall, reveal only 6.6 percent of current Grinnell student-athletes say their sport is the most important thing in their life. However, for many prospective student-athletes, their biggest link with Grinnell is through the coaching staff.
"I knew that I wanted to keep playing football coming out of high school and so, when I was contacted by [head coach Jeff] Pedersen ['02] and [assistant coach Jason] Martinez, I looked at Grinnell as a prospective school," said Pioneers defensive back Brendan Ramirez '16. "I came on a few visits and was happy to see that all the guys on the team acted a lot like my friends back home, which certainly played a factor in my decision to come to Grinnell."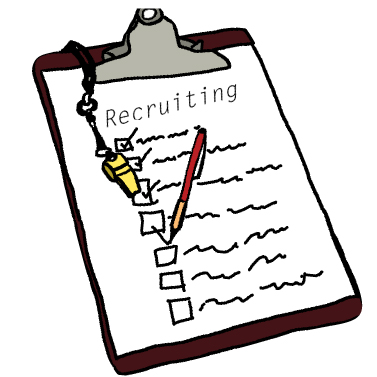 Recruiting is vital to the existence of competitive varsity athletics at Grinnell.
"You wouldn't have a team without recruitment," Pedersen said. "We would have a roster in the single digits if we didn't spend countless hours recruiting."
For the struggling softball team, recruiting will be particularly key to turning around the program.
"Especially for softball, it's crucial for the rebuilding process we're in," said softball head coach Amanda Reckamp. "Recruiting is the life of your program—to keep it going, to keep it strong. As of now, we have four committed for softball and are looking for two more to commit in the coming weeks."
Some other teams in particular will be especially reliant on a strong incoming freshman class next fall. Women's basketball, for example, is graduating six seniors from its 14-player squad.
"We have eight student-athletes coming in, three posts and five guards," said women's basketball head coach Kate Gluckman. "Our incoming freshman class consists of women from many different states—from the Midwest, California, Colorado and Oklahoma—a real diversity of hometowns."
The swim team is one of the most geographically diverse teams, with players hailing from 25 states and five countries. Assistant men's and women's swim coach Tim Hammond attributes this to the effort coaches and student-athletes put into the recruiting process, as well as the team's structure.
"We try to be really efficient about [recruiting]," he said. "We have a no-cut policy, with a baseline of being able to swim 100 yards of each of the four strokes competitively to be on the team."
Hammond also looks over high school state meet and club meet results. In swimming, it isn't as necessary to travel to meets. Divers will send videos to coaches, so their ability can be assessed without traveling.
"Times are pretty telling," Hammond said.
Other coaches travel throughout the Midwest to gather names and make contacts.
"During the summer, I choose one tournament out of the Midwest to go to and I go to several tournaments in Illinois, Iowa, and Missouri," Reckamp said. "We get huge recruitment booklets and I evaluate academic and athletic standards and make contacts with individuals and teams to start getting a database of recruits."
Gluckman conducts her recruiting in a similar fashion.
"I find [players] at AAU tournaments and they also contact me," she said. "Last summer I traveled to Nebraska, Kansas City, Minneapolis, Chicago and places in Iowa like Ames, which has a really good tournament."
After making an initial connection, coaches stay in constant contact with recruits. They send basic information about the College, as some recruits have never heard of Grinnell. They notify Admissions for coordination purposes. Then coaches continually update recruits on news about the team and Grinnell, and make sure that they are aware of timelines. Many teams have a Facebook page or a blog that recruits can read.
"As the year goes on, I gauge the mutual interest between me and the recruit about what they are looking for academically and athletically," Reckamp said.
Current student-athletes play a large role in the recruiting process as well. Coaches rely on their teams to host recruits and to introduce them to Grinnell culture.
"Generally our freshmen and sophomores host. We try to make some kind of connection, either geographic, academic interest or another variable," Pedersen said.
Hammond agreed. "If they're a diver, we want to house them with a diver. We want to pick somebody who has a similar disposition, someone they're going to get along with. Sometimes we choose someone who swims the same events," he said.
Ramirez emphasized the importance of the host-prospective student relationship.
"I feel that hosting a [prospective student-athlete] allows the host to better acquaint themselves with a future teammate," he said. "This is important for student-athletes, considering strong bonds between teammates are a quality of any successful team. Acting as a host for a prospective student and teammate is a valuable experience that people should try out at least once while they are here at Grinnell."